/
ANG Lift up eye treatment eye mask by ANG cosmetics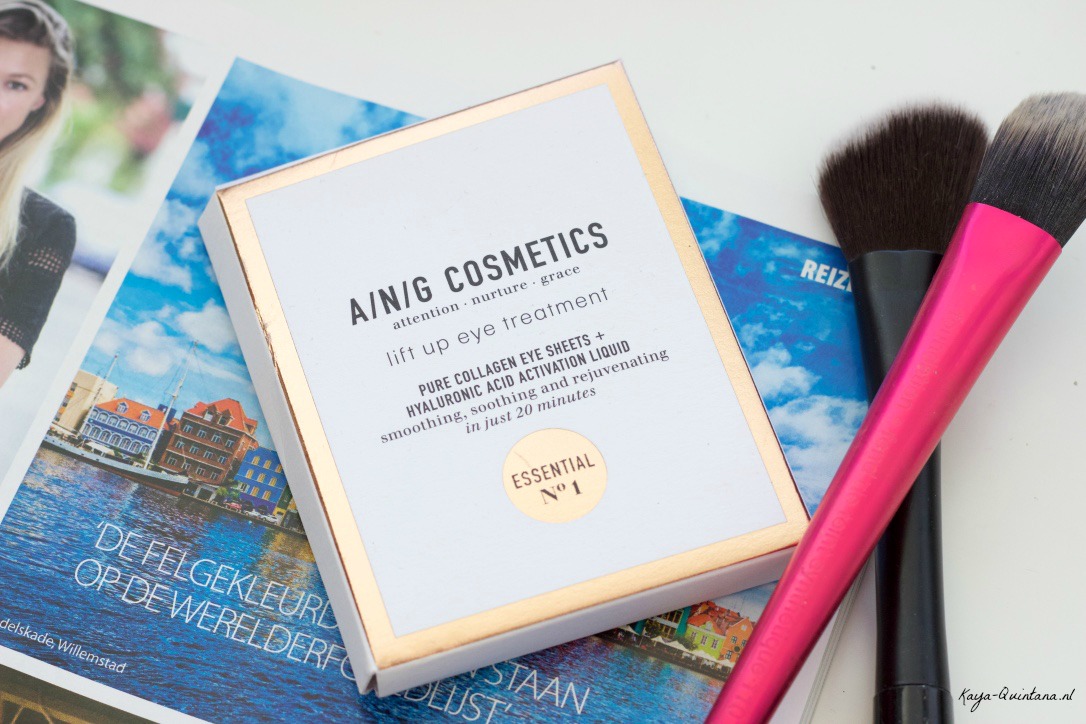 I don't think I have ever tried anything like this before. I am no stranger to facemasks but an eye mask is new for me. I have known that they're out there for years, but I never got around trying them myself. Until I received the ANG Lift up eye treatment eye mask. Created by the Dutch company ANG cosmetics to help us women with the tired looking skin around our eyes. After two weeks filled with too much work, I decided to try this eye mask* since I did look a little tired.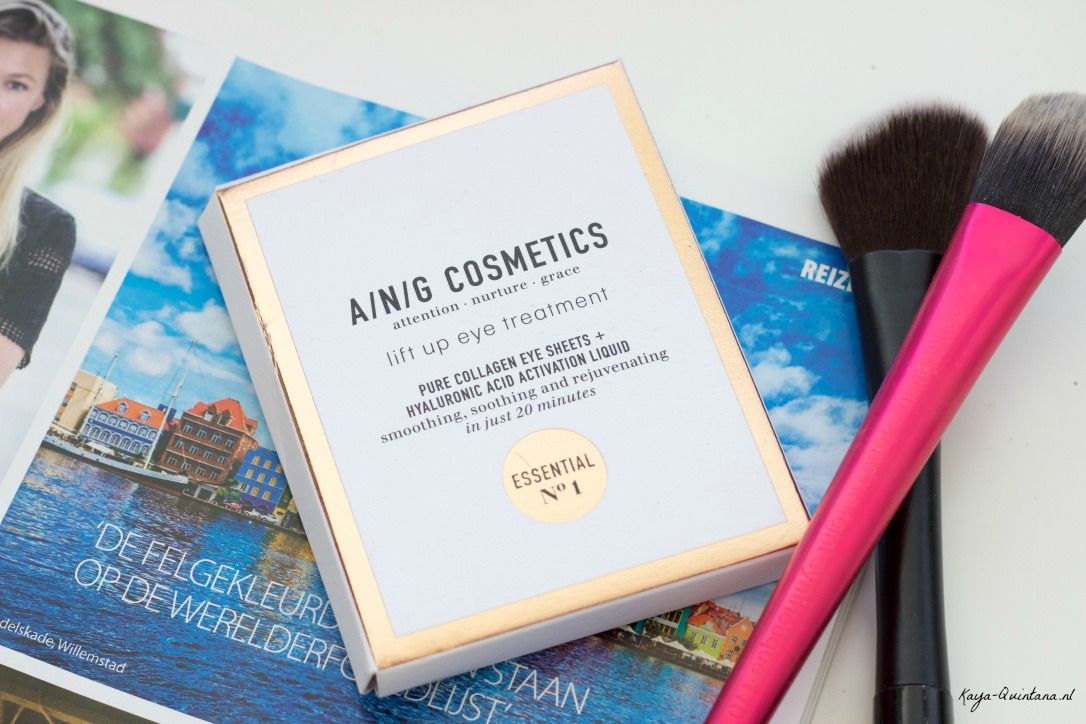 The packaging looks very pretty if you ask me. It's clean, simple and small enough to fit into your travel bag. After opening up the package you will find a pair of sheet masks for your eyes and the fluid with hyaluronic acid in a separate pouch. You need to squeeze that pouch to release the fluid onto the dry sheet masks. Keep pressing until the fluid has fully drenched the sheet masks. After that you can start applying the sheet masks under your eyes.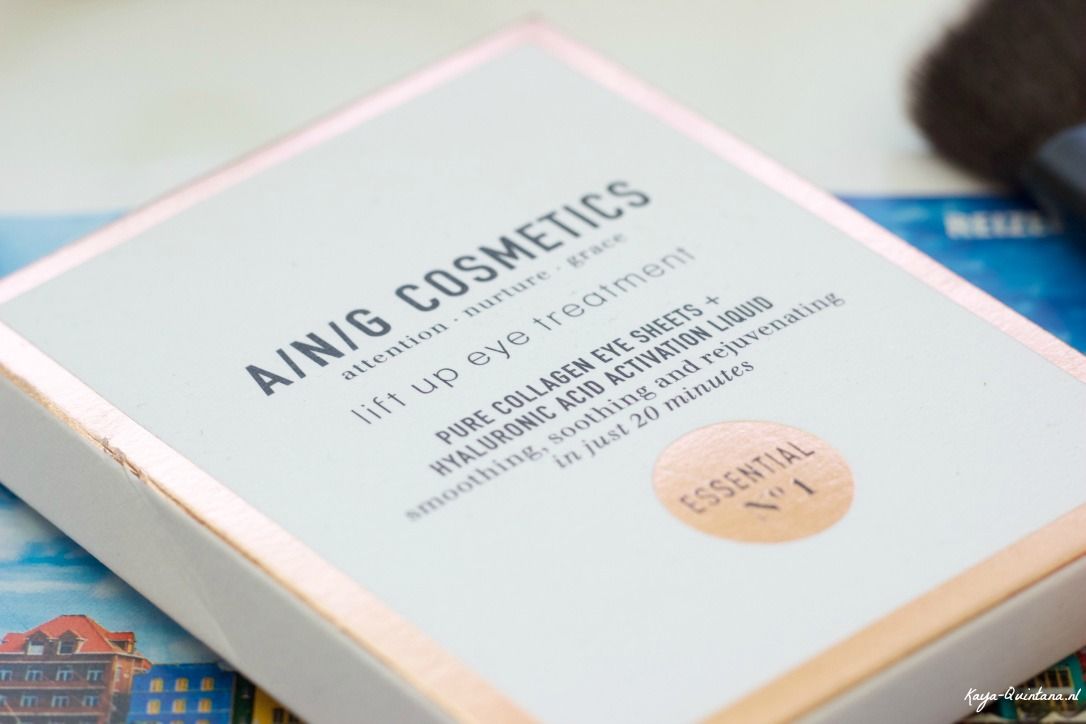 The little sheet masks are pretty slippery and you can feel the collagen layer really well. It's feels a bit like jello in your hands and very soft on the skin. I find the sheet masks easy to apply and move around. I placed them a bit too low on my first try, so I simply pulled them of and placed them a bit higher. You do have to be careful because the sheets tend to stick to themselves.
The ANG Lift up eye treatment eye mask is supposed to sit on your skin for twenty minutes. They sheets were very wet due to the fluid and it kept running down my face. Not very handy if you're wearing a nice outfit, so be careful! I left them on for about fifteen minutes because they started to dry up. This is when the sheet masks started to pull on my skin and I didn't like how that felt. The eye masks were easy to remove.
Maybe it's me, but I didn't see much difference after using the ANG Lift up eye treatment eye mask. I did notice a very shiny finish under my eyes. I have to say I do really like that glowy look. It made me look a little bit fresher. As for fine lines, they didn't seem to be any less. Unfortunately my skin was also left feeling really sticky. The fluid didn't really sink into my skin and kept feeling sticky even after a few hours.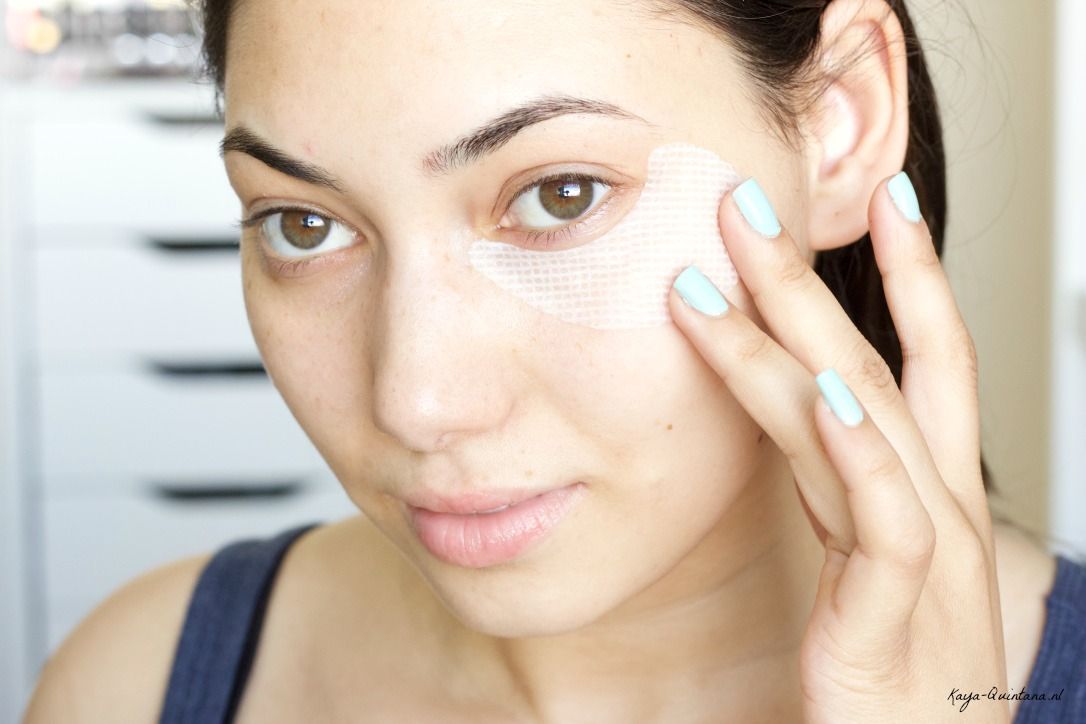 The ANG Lift up eye treatment eye mask will cost you €15,95 for one set and €59,95 for five. I have to be honest and say I wouldn't buy them. I didn't see any difference when it comes to the fine lines around my eyes. Yes, my skin looks glowy and fresh but it's not enough. I can get the same effect with one of my eye creams. Or I could spend the money on a good facial that will last longer than twenty minutes. Too bad, but this eye mask is not the mask for me.
Which eye mask do you recommend for dry skin?
Kaya-Quintana
P.S. Follow me on Bloglovin for more beauty tips!