/
Black sleeveless jacket outfit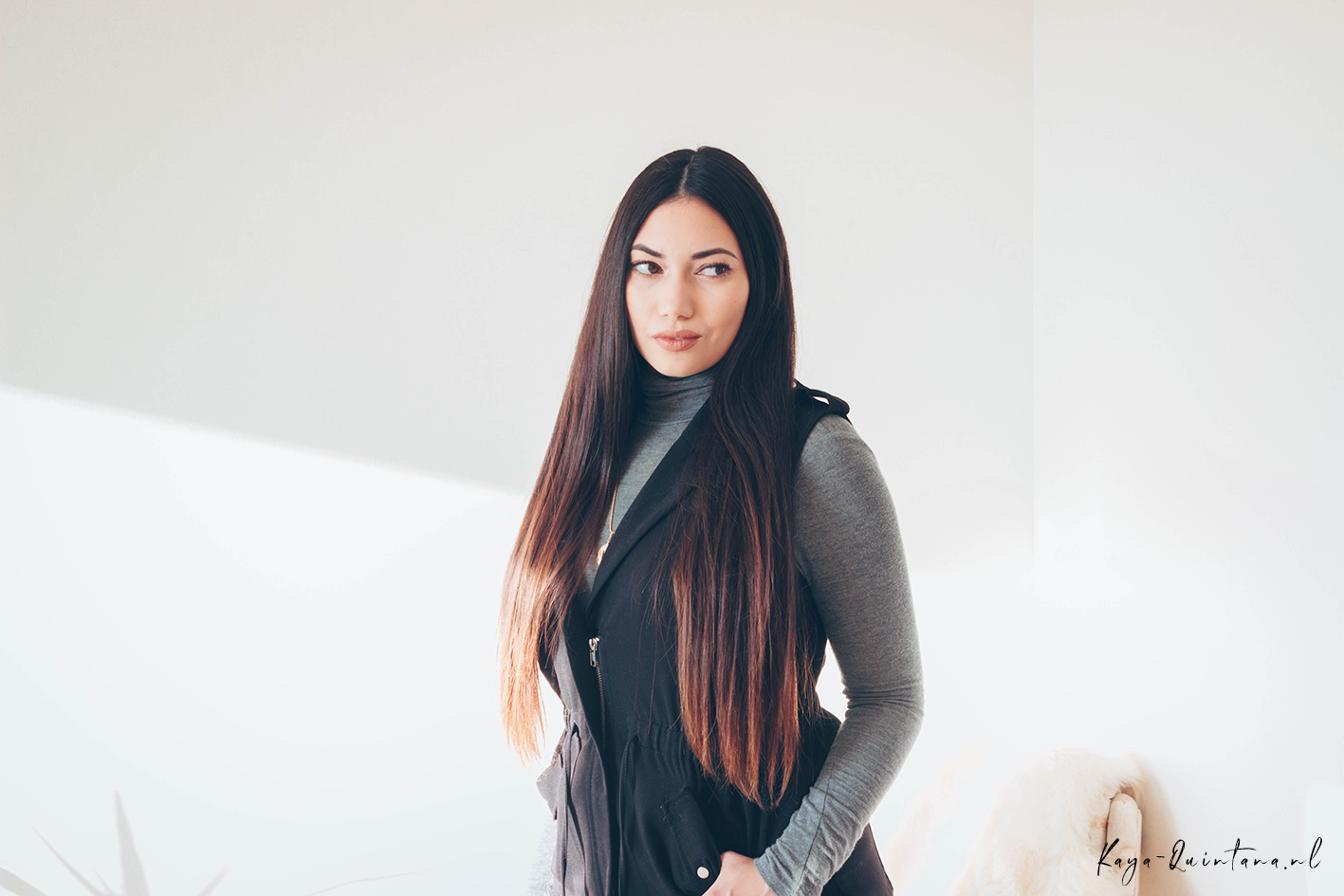 Decluttering your wardrobe is always a good idea. I often end up finding clothes I haven't worn in a while. Like this black sleeveless jacket I bought years ago. I loved the silhouette and I knew it had great potential. But I used to have no style (I'm getting there), and I wasn't able to create an outfit with this black sleeveless jacket until now. It's a very versatile piece and I want to learn how to style it in different ways this winter. It's truly one of those pieces any capsule wardrobe can use, because you can use it to elevate simple outfits really fast.
And I'm all for capsule wardrobe outfits, so let's dive into this one right away! This black sleeveless jacket has drawstrings around the waste, so you can create a nice shape. I like wearing it open, but I've also worn it closed. It has a short zipper in the front which allows the top underneath to peek out a bit. Speaking of tops, I chose a grey turtleneck by Mango for some contrast. I think it would be a good idea to pick a colored one next time, but for now the grey turtleneck will do.
Since the grey and black combination is a bit boring, I decided to add a gold touch. I wore my Fendi ID pendant, which stops right above the zipper of the black sleeveless jacket. This gives a bit of shine to the outfit, which looks good with the somewhat boring colors. I wore a velvet belt with a gold belt buckle by Zara to match the necklace. My jeans are from H&M, as always! I prefer their high waisted skinny jeans as they fit me quite well. The last item I added are my new beloved cowboy boots to match the sleeveless jacket.
I really, really like how the black sleeveless jacket can be worn many different ways. This time I styled it a bit preppy, with a little edge because of the boots. Next time I would love to style it more rock and roll. Maybe with a pair of studded combat boots? I have a lot of ideas, and this piece is definitely going in my winter capsule wardrobe. Don't forget to let me know what you think of this outfit and how you would wear a black sleeveless jacket. I think it's a piece anyone could use.
What do you think, keep or toss this outfit?
Kaya-Quintana
P.S. Subscribe to my newsletter for more outfit tips and tricks.
Shop my favorites