/
Dermalogica Stress positive eyelift review
I am always looking for the perfect eye cream. The perfect eye cream for me, would take care of dry and fine lines around my eyes. It would also be very hydrating and at least make me feel like it lifts and tightens my skin. I think I found an eye cream like that. The Dermalogica Stress positive eyelift does it all and I love it! This Dermalogica eye cream* really surprised me and I have to tell you about. Keep reading if you have sensitive, dry skin and dark circles around your eyes.
Product: Stress positive eyelift
Brand: Dermalogica
Rating: 9
Promises: Give your eyes extra moisture for a revitalized look with the Stress Positive Eye Lift from Dermalogica. Ideal for reducing dark circles and puffiness, this eye treatment features potent essential oils and hyaluronic acid to improve the condition of your skin. Key ingredients are essential oils, Hyaluronic acid, Jojoba and Niacinamide. No fragrance, parabens or colors added.
Price: €79,90 at Bijenkorf.nl
Pros
I started using the Dermalogica Stress positive eyelift a few weeks ago. When the fall weather really started drying out my skin. I was also dealing with stress and running on very little sleep. I had big dark circles around my eyes. Let's not forget about those nasty dry lines that were starting to form. That is when I decided to finally give this eye cream a try. Dermalogica promises to reduce dark circles, puffiness and improve the condition of your skin. And yes, it really does!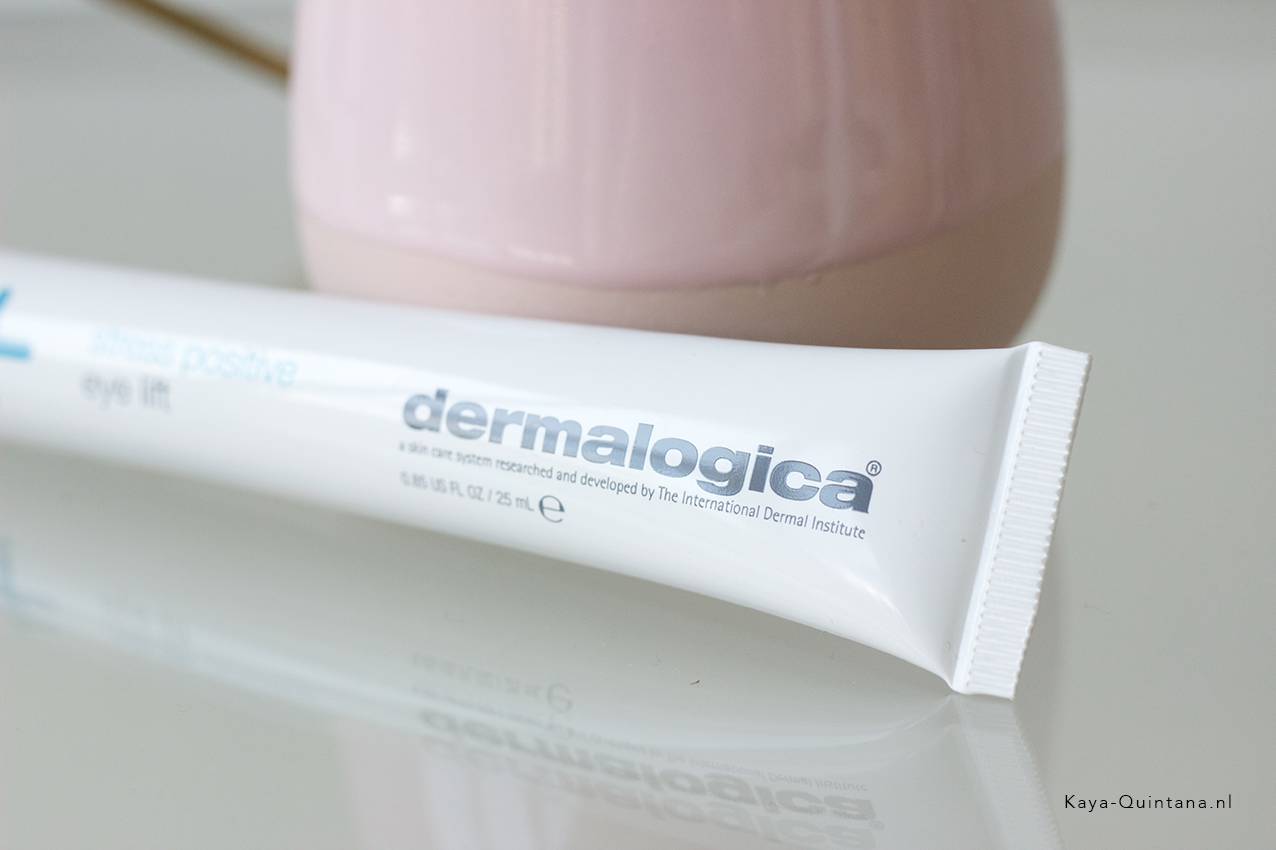 This eye cream also does it really fast, I couldn't believe it. As you can see, the packaging is at tube with a cooling massage applicator. I always think of the applicator as a mini clothing iron. It really straightens out the fine lines around my eyes. I'm literally ironing them out, haha! The tube itself is easy to handle and the massage applicator is nice and cold against the skin. The cold applicator really helps reducing puffiness around the eyes.
I really like the combination of the tube and the applicator. Dosing the amount of eye cream and applying it is really easy. The applicator also helps the skin to soak up the eye cream much better. My skin soaks up this eye cream really fast. I also immediately noticed the effects after the first time I used the Dermalogica Stress positive eyelift. I can truly see a big difference when it comes to the skin around my eyes.
Cons
To be honest I could only find one thing some people could dislike about the product. Which is obviously the price, which might be considered very high to some people. I think you can find a similar product at other brands. A good alternative might be the Moisture surge eye cream by Clinique. It's almost the same and it costs less. The Moisture surge eye cream by Clinique is one of my favorite eye creams. But I do notice a big difference between this one and the Dermalogica Stress positive eyelift. The Dermalogica eye cream seems to be more heavy duty.
The verdict
I have nothing but good things to say when it comes to the Dermalogica Stress positive eyelift. It's an eye cream that actually does what the brand promises. It is also easy to use and travel with. I like how the eye cream soaks into my skin really fast. It makes it very easy to apply make-up after. The formula is light and the texture is like a gel, I love it! I think that people with dry skin, dark circles and dry lines around their eyes will love it too.
I would definitely buy this eye cream again. Mostly because I appreciate the ingredients like the Hyaluronic acid, which helps holding moisture in the skin. Dark circles are pretty hard to tackle, but this eye cream does seem to really help me with that. The biggest pro about this eye cream are the hydrating ingredients. Those really seem to match and help my skin very well. Yes, I really like the Dermalogica Stress positive eyelift.
Would you like try this eye cream too?
Kaya-Quintana
P.S. Follow me on Instagram for more beauty tips!
Shop my favorites