/
Eating at SLA, an organic salad bar in The Hague
My sister and I love sitting down at different restaurants to try new things. Last week we really wanted to eat something after a shopping spree. We decided to try out something healthy as we both like to work on a healthy lifestyle. I've walked past SLA, an organic salad bar in The Hague many times. Sla means lettuce in Dutch so it's pretty fitting, haha! I always saw people sitting outside on the terrace and their salad bowls looked awesome.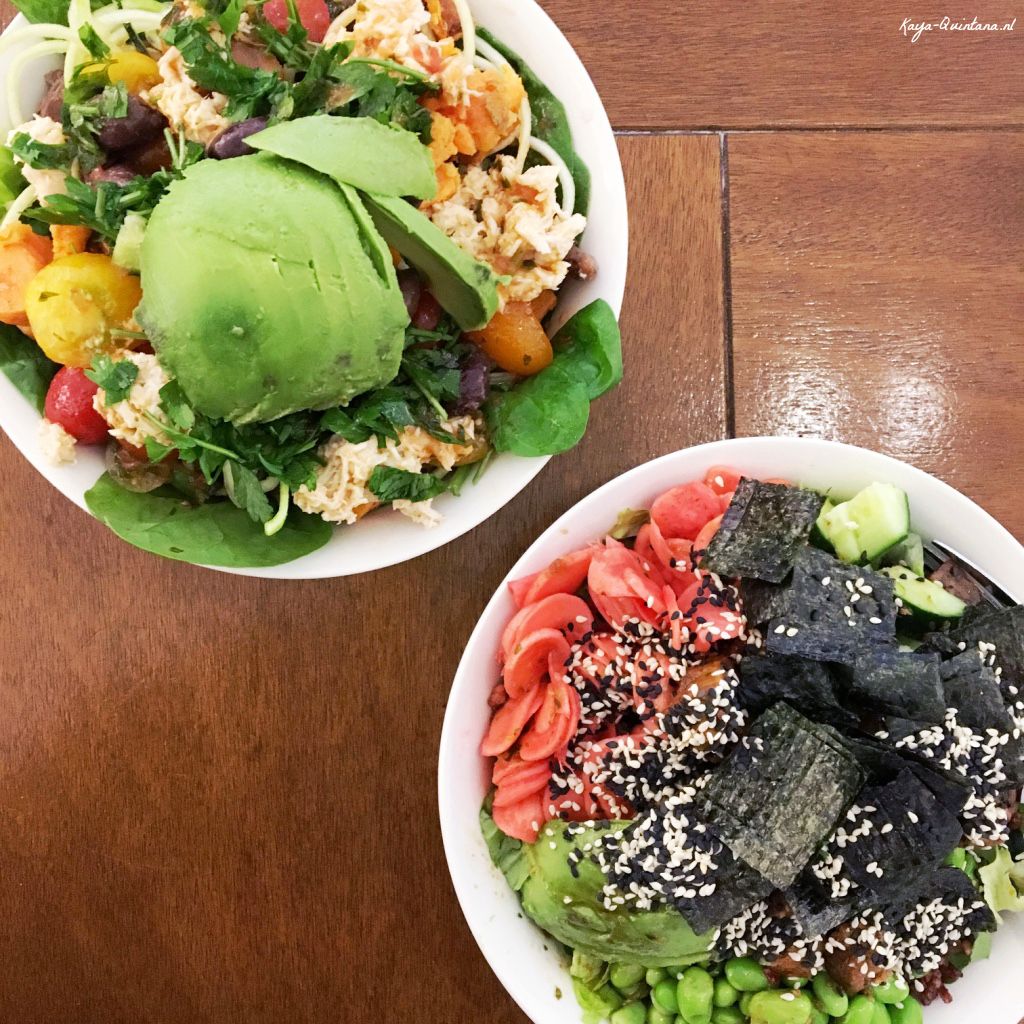 So off we went, the little sister and I to have our own salad bowls at SLA. I didn't have my DSLR camera with me, so excuse the Iphone photos. But they will give you a pretty good impression of the salad bowls we got. I decided to go for the pulled chicken bowl with oregano and lemon. This bowl has the pulled chicken, spinach, bulgur, sunflower seeds, parsley, tomatoes, zucchini noodles, roasted sweet potatoes and Kalamata olives in it. The dressing is made of red wine vinegar, olive oil, basil and tomatoes.
This salad costs €11,- but I paid a bit more. I swapped the bulgur with Borlotti beans to make the salad more Keto. I also added some avocado for healthy fats and that cost me a bit more. I did get a really big bowl for that amount of money and everything was fresh and very tasty. I do think they could have added a bit more pulled chicken. There was very little chicken to find in the bowl, even though it is a chicken salad. The dressing could have been a little bit spicier, but overall I would give this salad a seven out of ten.
My sister had the vegan sushi bowl because she likes to eat vegan whenever she can. This bowl costs €9,- and is really good according to my sister. She really loved the salad and ate the entire bowl on her own. I have to say the bowls are pretty big and I had a hard time eating it all. I left SLA the organic salad bar in The Hague with a very satisfied feeling. I've never bought a salad bowl like this before and I have to say I will probably go their again.
It is pretty expensive for a salad, but if you are into eating healthy it is a good investment. It might not be your everyday spot, but it is a good alternative to all the fast food restaurants in the area. Their salads are usually pretty cheap, but not as healthy as you think because of the dressings which are packed with sugar. So get your salad on at SLA, an organic salad bar in The Hague and let me know what you think!
Have a healthy day,
Kaya-Quintana
P.S. Follow me on Instagram for more updates!