/
Eating at The poké bar in The Hague
Hey dolls, welcome back to another restaurant review. This time I went to visit The poké bar in The Hague. I think it's one of the first poké bars in The Hague and I really wanted to try it. I actually wanted to try a poké bowl for the longest time, I just never got around to it. But I walked in last week when I didn't have any food in the house and didn't feel like cooking at all. So let's see what a poké bowl is first.
To me it's a way too pricey salad, but more about that later. The original poké bowls are told to be a traditional Hawaiian dish. They all have a rice and/or lettuce base. Then you pick your favorite raw fish and greens to top it off. My sister called it deconstructed sushi, haha! It does really look like it is, because many ingredients are what you'll find in a sushi roll. The ingredients are very healthy, which is almost always the case with a salad bowl like this.
Now that we know what poké is, we can get back to the review. The poké bar in The Hague has a nice menu with eight poké bowl options and you can create your own. You can also choose from six sushi burritos and pick from three sides. The restaurant was really quiet when I walked in and I think an employee was enjoying a poké bowl herself. Another employee came in quickly to help me. He was nice, but not really into keeping a conversation going. Which made me want to leave and eat at home.
I picked the Sweet Hawaiian poké bowl which contains salmon, mango, edamame, crispy corn, cucumber, spring union and a sweet mango dressing. I paid €9 for the medium sized bowl. A big one will set you back €12,50 which is a too much money for a salad like this in my opinion. Although the medium portion was pretty big for me, I still think €9 is a bit too much for what I got. Even the organic salad bar 'I love sla' a few doors back isn't that expensive.
So, the prices could be lower in my opinion, but I think that won't happen very soon, since these poké bowls are in high demand at the moment. Now let's talk about the Sweet Hawaiian poké bowl. It was a little disappointing, it really was. I could tell all the ingredients were fresh and they tasted as good as they can. The sweet mango dressing was nice too, but I got too little of it to cover the entire salad.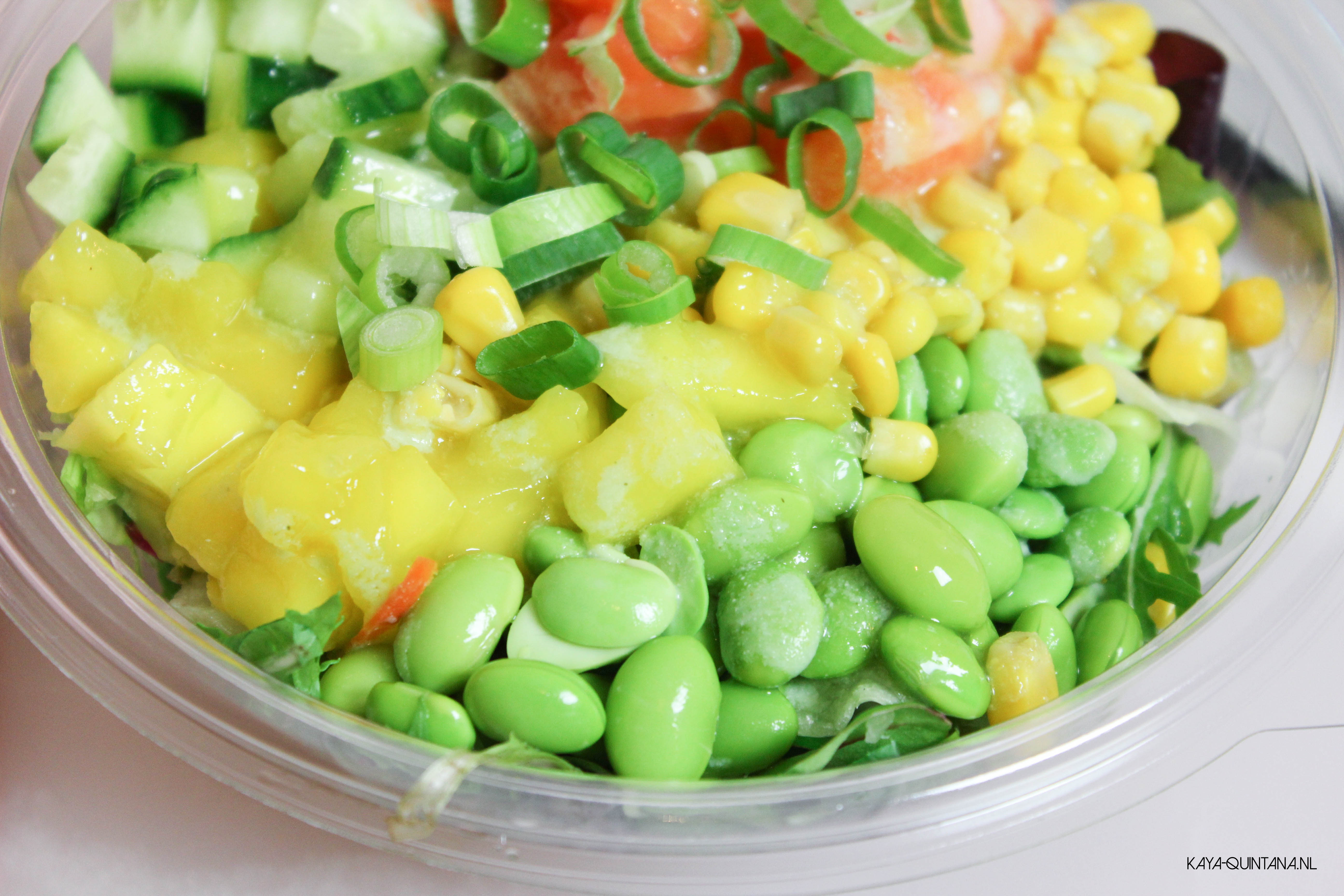 I was basically munching dry salad most of the time. The cook had asked me if I wanted soy sauce with it, but I said no. Mainly because I didn't understand why I should want that on my salad, since I already had a sweet mango dressing. Well, I guess I should have said yes because the salad was very blend. Other than the sweet mango dressing I didn't really taste anything. I really missed some kick to it. A little bit of salt and pepper would have gone a long way.
If only the cook had explained the concept of the poké bowl to me, I probably would have gotten the soy sauce too. I think The poké bar in The Hague is nice, but I will not eat there again. I think the salads are too expensive for what you get, even though the ingredients were perfect and fresh. And if the cook would have explained how putting a poke bowl together works, I would probably have gotten a better tasting one.
If you live or currently visiting The Hague and you want to try a poké bowl, this is your chance! You can find this new bar at the Grote halstraat 20 (zipcode 2513 AX, Den Haag) in the city centre. I personally won't be going back to The poké bar in The Hague. I'd rather pay a little less and get more next door at I love Sla. You see, I love salads because they fit my Keto lifestyle. And I think even salads should have some flavor, but apparently poké bowls don't. So the restaurant itself is okay, but the food is not for me.
Will you be eating at the Poké bar in The Hague, let me know!
Kaya-Quintana
P.S. Follow me on Bloglovin for more food updates, see you there!