/
Ellesse hoodie and Tommy Hilfiger ankle boots
Oh, how I love a good hoodie! This time I found myself another velvet hoodie by Ellesse. This old school brand has a lot of nice sweaters and hoodies, just like this one. I found this velvet Ellesse hoodie at Topshop and fell in love the moment I saw it. I love the feeling of velvet, it's so soft and cozy. This hoodie is also very long, which makes it perfect for days I want to be ready fast. I can grab a pair of jeans or leggings, my new Tommy Hilfiger ankle boots and walk out the door.
The deep blue color of the Ellesse hoodie matches the Tommy Hilfiger ankle boots perfectly. I have been eying these boots for months, but I thought they were too expensive. As a minimalist I think twice about everything I'd like to buy, and these boots didn't make the cut. Until I saw them on sale for half the price and I had just thrown away another pair of shoes. This time it was a match made in heaven. These Tommy Hilfiger ankle boots aren't the type of boots I' normally buy. Mostly because they're a bit chunky and not that high.
[one_half padding="0 5px 0 0″]
[/one_half]
[one_half_last padding="0 0 0 5px"]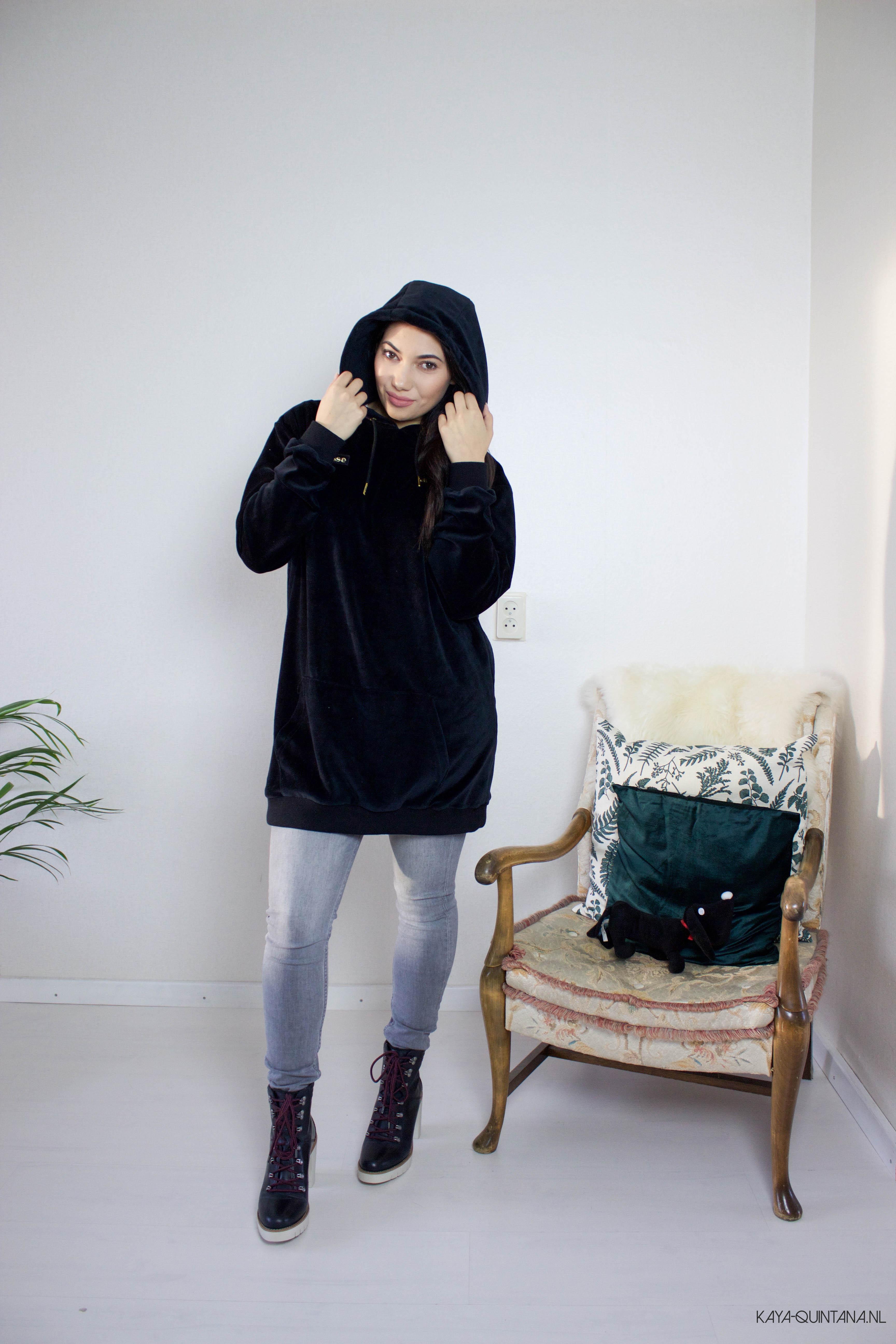 [/one_half_last]
But I really want to create a wardrobe that has more than one style. And these boots give a bit of edge to any outfit. They are also very stable because of the chunky heel. That's what makes them perfect for a day on the road, while still looking absolutely fabulous. This outfit shows that they look great under a pair of jeans and a nice hoodie. I could even wear them with a nice blazer or a nice t-shirt paired with a cardigan. Aaah, I can't wait to try all kinds of combinations.
I already really like this one, how about you?
Kaya-Quintana
P.S. Follow me on Bloglovin for more outfit updates.
[one_half padding="0 5px 0 0″]
[/one_half]
[one_half_last padding="0 0 0 5px"]
[/one_half_last]
Shop my outfit
Ellesse hoodie – Tommy Hilfiger ankle boots – H&M skinny jeans