/
Fashion: Bag bugs en pom poms
Je zag ze in dit artikel al eens eerder voorbijkomen op mijn blog. De zogenaamde bag bugs en pom poms voor aan je tas of sleutelbos. Ik zag ze voor het eerst aan de tassen van diverse celebrities voorbijkomen. Ook mijn zusje had ze al gespot bij Fendi. De Fendi bag bugs zijn behoorlijk hoog geprijsd, maar bij River Island en de H&M vond ik twee leuke dupes. Ik moet ook eerlijk bekennen dat ik deze goedkopere versies leuker vind dan de originele Fendi bag bugs.
In dit artikel wil ik graag deze leuke fashion trend met je delen. Want deze grappige fluffy bolletjes kun je in heel veel kleurtjes kopen. Ik koos voor de roze versie met zwarte puntjes van River Island. En de kleine roze versie heeft een grappig monsterlijk gezichtje en kun je vinden bij de H&M. Beide bag bugs kosten per stuk minder dan €10,-. Beide bag bugs zijn ook lekker fluffy! Ik ben namelijk ook kortharige pom poms tegen gekomen maar ik vind de fluffy versies een stuk leuker.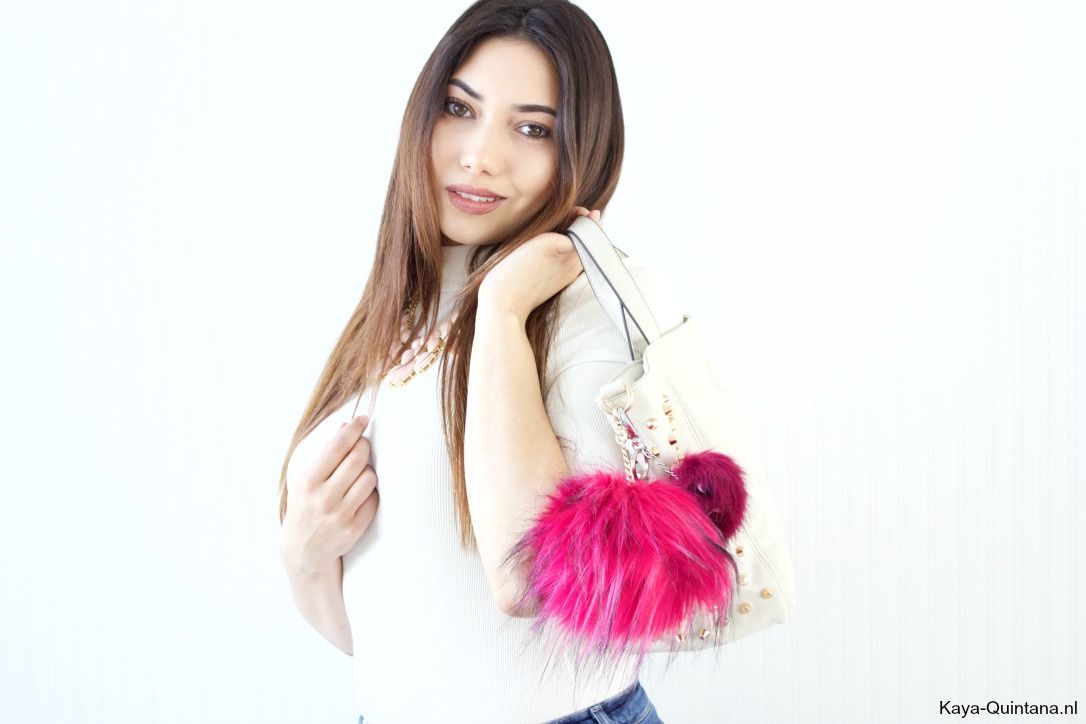 De reden waarom ik ze zelf zo leuk vind, is omdat ik vaak simpele tassen draag. Ik heb liever geen tassen met gekke printjes of designs. Daardoor zijn mijn tassen soms een beetje saai en met een bag bug kan ik snel en gemakkelijk mijn tassen opvrolijken. En als ik de kleurige bolletjes weer zat ben, haal ik ze er zo weer vanaf. Als jij ook graag gemakkelijk je tas een andere look geeft, dan zou ik zeker even kijken naar de bag bugs.
Of heb jij al zo'n fluffy bolletje aan je tas hangen?
Kaya-Quintana
P.S. Volg mij gezellig op Instagram via @KayaQuintana, see you there!