/
Flared jeans, white t-shirt
I have a big love for seventies and nineties fashion. I really like incorporating the styles from those years into my outfits now. One of my favorite jeans is a pair of flared jeans. I like pairing these with a simple white t-shirt like Farrah Fawcett in Charlie's angels would. Very seventies, haha! It's such a simple and easy outfit, but it still looks great in my opinion. I'm really settling into the less is more-motto more and more, as I keep developing my style.
These flaired jeans are by River Island. They are very, very stretchy and have an amazing fit. I just don't like that they're a little too tight around the knees. I wish they were a little looser there because that would create the perfect fit. Unfortunately, it's pretty hard to find the perfect flaired jeans, especially when they're not in style at the moment. Thank god I still have this black pair. When it comes to t-shirts, I like the red pop of color on this one.
[one_half padding="0 5px 0 0px"]
[/one_half]
[one_half_last padding="0 0px 0 5px"]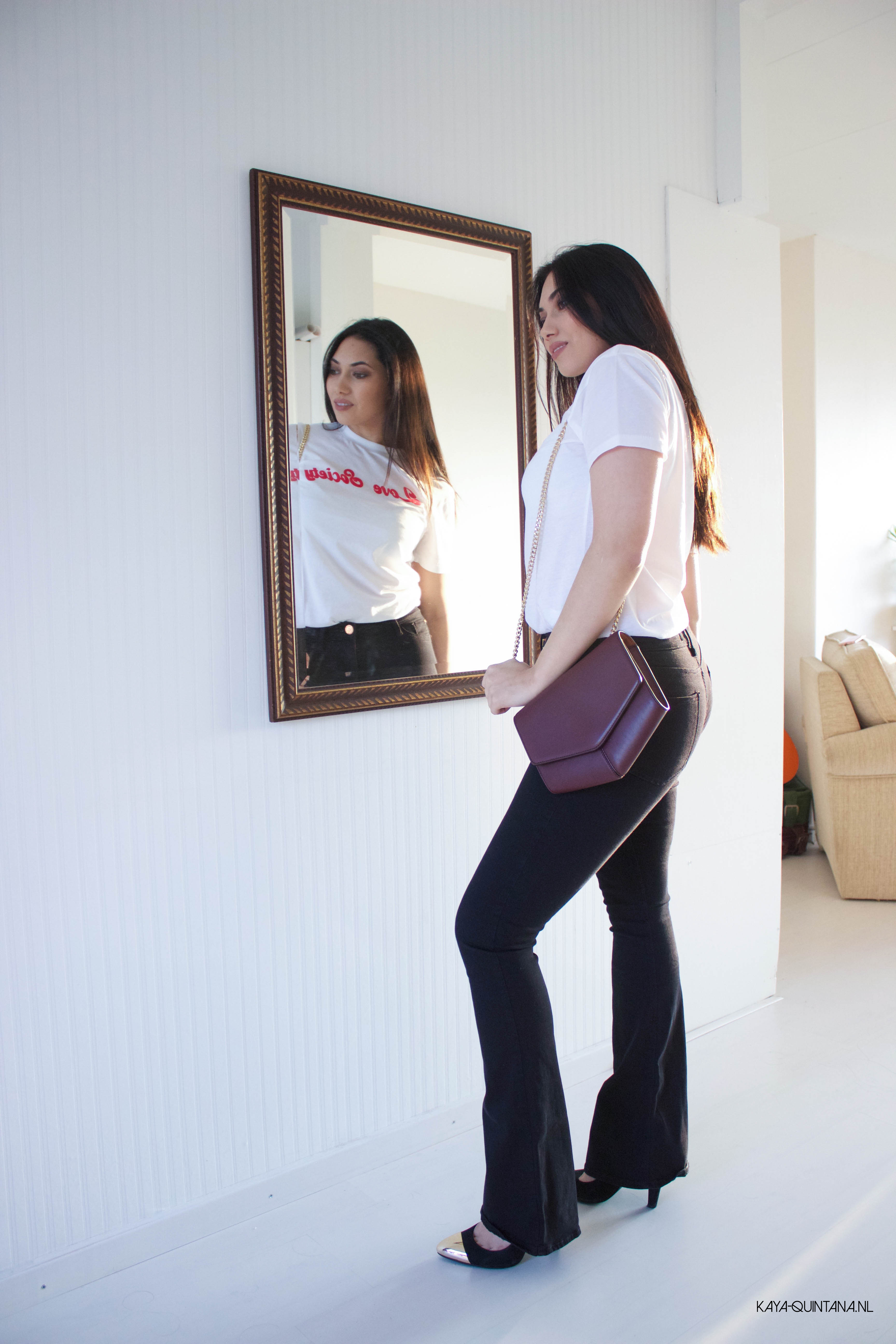 [/one_half_last]
I bought this t-shirt a few weeks ago during the sale at Bijenkorf. It's by Ganni, a brand I've heard about but never really looked into. Turns out they have amazing t-shirts like this one. It says Love Stories and the font is amazing with this outfit. I've always had a hard time finding white t-shirts that look good on me. Especially because I'm not that tall and most t-shirts look like garbage bags on me. This one by Ganni doesn't, it has a nice fit. And I of course had to wear my Sandro Lou bag with this outfit, love it!
Would you rock a pair of flaired jeans like this?
Kaya-Quintana
P.S. Follow me on Instagram for more fashion updates, see you there!
[one_half padding="0 5px 0 0px"]
[/one_half]
[one_half_last padding="0 0px 0 5px"]
[/one_half_last]
[one_half padding="0 5px 0 0px"]
[/one_half]
[one_half_last padding="0 0px 0 5px"]
[/one_half_last]
Shop my outfit
River Island flared jeans – Ganni t-shirt – Invito pumps – Sandro Lou bag