/
How I wear a classic red coat
Some items just don't go out of style, like my red coat. I bought this coat at least three years ago at Zara. It was on sale and it just screamed at me: 'Buy me, take me home!' And the rest is history, haha! This coat has been one of my wardrobe stables, as it's just a classic on it's own. The coat used to have a weird strap on the back, but I took it off because it didn't look well. Now the back looks smooth without any accessories on it, which adds to the classic vibe. And that classic vibe is exactly what I aim for as a fashion loving minimalist.
[one_half padding="0 5px 0 0″]
[/one_half]
[one_half_last padding="0 0 0 5px"]
[/one_half_last]
I like to use this red coat to elevate my simple outfits. The red color is very vibrant and it immediately grabs your attention. Which is perfect if you want to look more interesting without putting too much effort into it. For instance, my outfit in this article is very simple. I love pairing high waisted jeans, with a black top, loafers and an interesting belt. This is my favorite daily 'uniform.' I based it on Audrey Hepburn's casual outfits. She would often wear simple pants, a top or turtleneck and loafers.
[one_half padding="0 5px 0 0″]
[/one_half]
[one_half_last padding="0 0 0 5px"]
[/one_half_last]
I personally love to add some jewelry to make the look my own. I also added a belt with a gold vintage style buckle. But all and all, it's still a very simple outfit. By adding the red coat, I immediately look stylish. This is why I think it's a good idea to invest in a red coat. It looks good on almost anyone! I do advise you to opt for a more classic style, like a double-breasted red coat. Because it's not just about the color, the cut and the style of the coat are just as important. Make sure the color is vibrant, but not too in your face and you'll be fine!
I hope this outfit with the red coat gives you some inspiration for your own (capsule or minimalist) wardrobe. I've noticed that a lot of people are happy with me showing some color in my capsule wardrobe. I guess people seem to think that being a minimalist means you can't wear fashionable or colorful outfits. Thankfully, that isn't true! Even though I'm a minimalist, I'm also a fashionista by heart. Yes, you can be both! Invest in classic items made from sturdy fabrics and get creative.
How would you style a red coat, let me know!
Kaya-Quintana
P.S. Follow me on Bloglovin for more outfit ideas. Did you like this article? Great, you can buy me a drink to support my work. Thanks in advance!
[one_half padding="0 5px 0 0″]
[/one_half]
[one_half_last padding="0 0 0 5px"]
[/one_half_last]
[one_half padding="0 5px 0 0″]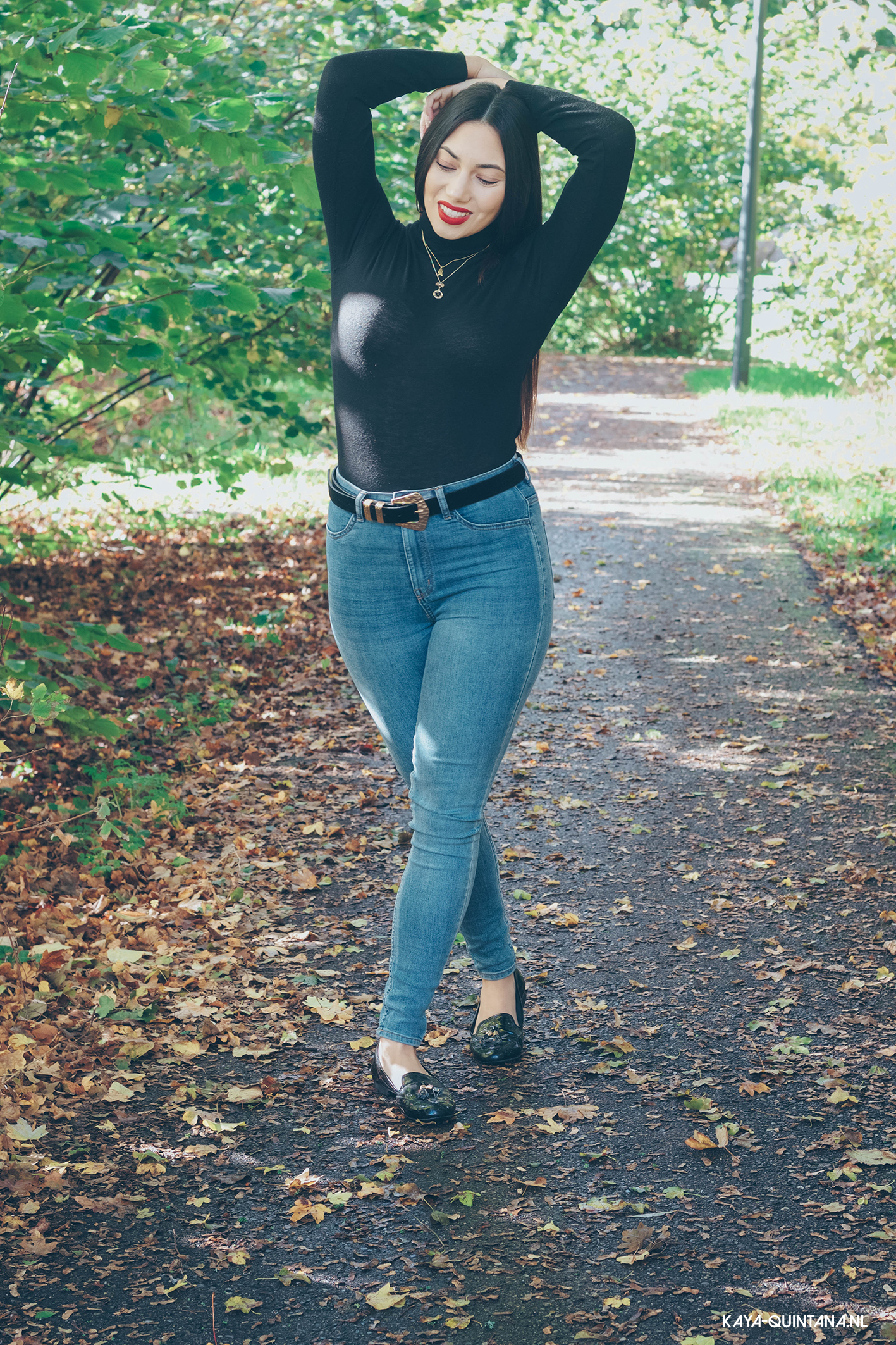 [/one_half]
[one_half_last padding="0 0 0 5px"]
[/one_half_last]
[one_half padding="0 0 0 5px"]
[/one_half]
[one_half_last padding="0 0 0 5px"]
[/one_half_last]
Shop this outfit
Red coat by Zara, similar coat – Turtleneck by Mango – High waisted jeans by H&M
Loafers by Dune, similar shoes – Belt by Zara – Crossbody bag by Whistles, similar bag