/
Laura Mercier translucent Loose setting powder review
How I love Laura Mercier products. The quality is good, the packaging is simple yet pretty, and the products I have actually work. Yes, this brand is a bit more expensive but very worth it in my opinion. In this article I want to share my experiences with the Laura Mercier Translucent loose setting powder. I bought a little gift set with the Secret brightening powder, which I've been using for years now. I thought it would be a good idea to match that powder with the one for your entire face. And yes, it's amazing so let me tell you about it in this review.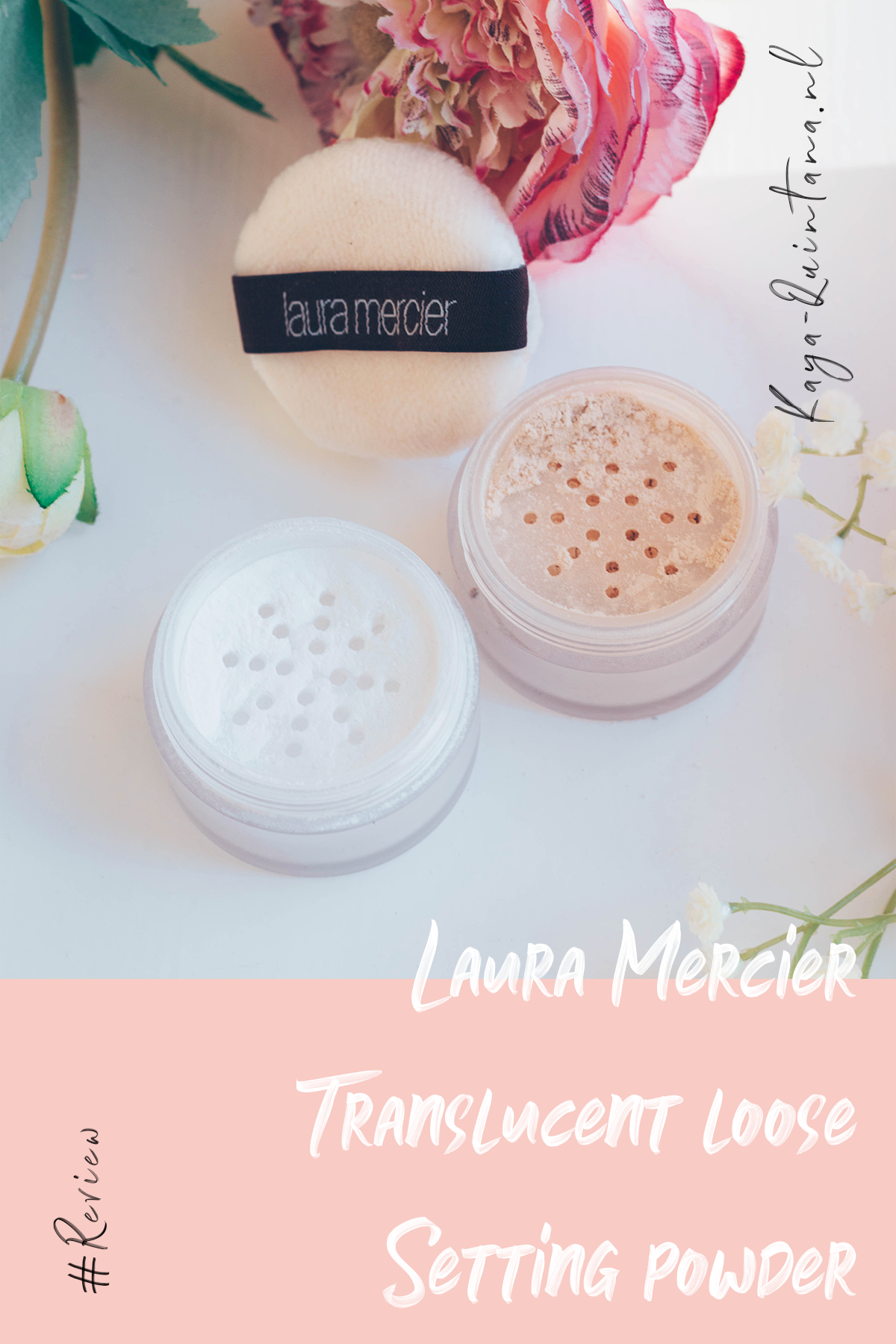 Product: Translucent loose setting powder.

Brand: Laura Mercier.

Rating: 9.

Promise: The iconic Translucent Loose Setting Powder in a glow finish sets makeup for 12-hour lasting luminous, weightless wear. This lightweight, innovative powder allows you to keep a natural glow and doubles the wear of foundation, without adding weight or texture. It creates a healthy-looking, radiant finish with a touch of sheer coverage that resists settling into fine lines and pores. This no-flashback formula means you'll look great in photos, and creates a soft-focus effect to subtly blur the look of fine lines and imperfections without looking cakey. These truly translucent shades work on all skin tones. From the fairest to the deepest, according to Lauramercier.com.

Price: Starting at € (9,3 grams) and (28,3 grams) $23 for the travel size (0.33 ounce) and $39 for the full size jar (1.0 ounce).

Where to buy: At Nordstrom, Bloomingdale's, Laura Mercier or Bijenkorf.
Pros
I bought the Prime and Perfect gift set, so I have a smaller jar than you'd usually get. If you've ever had the Secret brightening powder in your possession, expect the same size for the translucent powder in this set. But a little goes a long way and that's just how I like my setting powders. As someone who has very dry skin and eczema, I can't pack on too many layers. I do need a setting powder that holds all day and the Laura Mercier Translucent loose setting powder is able to do that. It has a light beige tint which turns translucent on the skin as promised.
The powder is very, very fine and soft to the touch. No grainy texture or clumps of powder. You can use the powderpuff that Laura Mercier added to this set or a powder brush. I prefer using a round top kabuki as that gives me more control. I always work with layers and a kabuki brush makes that very easy. The Laura Mercier Translucent loose setting powder is very buildable, therefore adding two or three layers isn't a problem. This is a powder you can use to bake, although that isn't something I like to do. I prefer light and airy layers.
Remember I said I have very dry skin? Well, the Laura Mercier Translucent loose setting powder doesn't dry my skin out at all. Most setting powders make my skin look like a cracked porcelain doll, which is horrible of course. Those fine dry lines don't look good when they're caked up. As it's pretty much translucent it also looks good with my strong yellow undertone. Which is exactly why I bought this powder, because most are too pink or orange for me. This setting powder has a very, very light tint to it but it's not too strong. So my foundation doesn't turn into another color and it doesn't oxidize with this powder.
Cons
This isn't a super bad thing, but I do notice that this powder isn't very mattifying. Meaning that even with my dry skin, sometimes the natural skin oils shine through. Especially on my nose after wearing it for half a workday, which is about five hours. This is when I need to start touching up which I'd rather not do, because then my contour also needs to be touched up. At the moment my skin is a bit oilier, mainly due to hormones and the winter not setting in yet. I do notice the shiny spots after a while and that's with two layers of powder. If you have oily skin to begin with, I'd say use a bit more to really secure your foundation.
The verdict
I like this product a lot, however I don't think I'll buy the loose powder version again. I know Laura Mercier has a press powder version which I think I prefer. So I will be buying that version next time. It would be perfect for on the road as I'm traveling quite a lot these days. To conclude this review: The Laura Mercier Loose setting powder is amazing in my opinion. It's soft, fine, easy to use and you can bake with this powder if you like.
A full-size jar is expensive, but worth it in my opinion as a little goes a long way. If you want to invest in a good setting powder (for dry skin), this is a really good option! There are two colors to choose from, translucent and medium deep. They're both pretty transparent which I appreciate, because I want my foundation color to shine through as much as possible. I just want my setting powder to set, not adjust the color of my foundation shade. So yes, I will buy this powder again but then the pressed version.
Have you ever tried the Laura Mercier translucent loose setting powder and what do you think about it?
Kaya-Quintana
P.S. Subscribe to my newsletter for more beauty reviews.
Shop my favorites