/
Minimalist fashion tips
Yasss, back with another minimalism article. This time it's about minimalist fashion tips, because fashion is life! To me at least, it always makes me feel better. I can hear you thinking: 'How do minimalism and fashion go hand in hand?' Well, let me tell you. Minimalism doesn't mean you can't shop anymore. Sure, there are people who like to practice minimalism in that way. Well, good for them! I'd rather still enjoy a bit of shopping for items I really like and need.
See, for me minimalism is about only buying and keeping what I really like and need. So I've only bought one pair of shoes in 2017. I got myself a pair of Vans plateau sneakers, because I really needed sneakers. I have only bought clothes because I lost weight and most of my old clothes don't fit anymore. I did buy three new bags, because my old bags broke down. One of them was at least eight years old, wow! So yes, it was about time to invest in new bags.
I want to share my minimalist fashion tips with you, because I think they might help you out. When it comes to fashion, minimalism might be able to help you create that dream wardrobe you've always wanted. We all see the fashion bloggers and celebrities with amazing outfits and expensive clothes. We all think it's too far away for us to reach, so we settle for some Primark items and maybe a H&M splurge. But it is possible to spend more money on clothes you actually like, which are more expensive and better looking.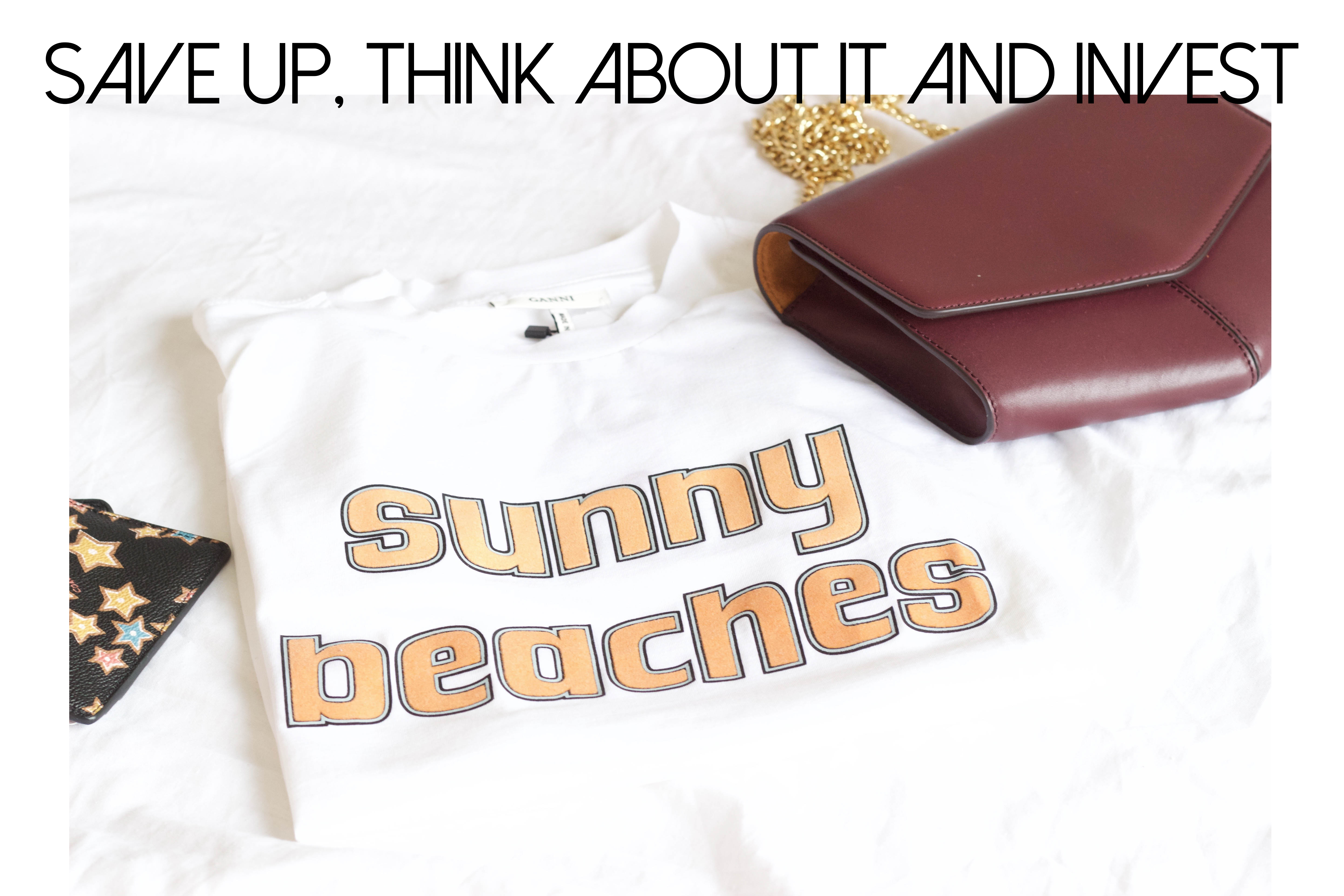 Clean that closet
This is how I do it, so keep up girl, haha! I started with cleaning out my closet about two years ago. I threw away and gifted everything that I didn't wore or didn't fit anymore. The result? A very, very empty closet and new opportunities ahead. It really helped me figure out what I actually like to wear. Cleaning out my closet helped me discover my favorite types of outfits. I love me some jeans and a simple t-shirt. A nice high heel and a fancy bag to top it off, I'm a simple girl.
I'm also all about the details, so no heavy prints or big logos on my clothes. I like simple outfits with one big eye catcher or a fantastic pair of shoes. I tend to wear my favorite outfits a lot, so I decided all my outfits should be my favorites. Mostly because the minimalist in me does not want to waste any more money on fashion items I don't really wear. Going through your closet will help you understand yourself, your own fashion style. Which might not be whatever it is you've been keeping in your closet.
Find your style
With a clean slate, I started mapping out my new wardrobe. With the help of Instagram, Pinterest and fashion blogs, I found out what I wanted my style to be. Which clothes look good on me and make me feel good. Because clothes should help express who you are and how you feel. I also had to be really honest to myself and stop dressing like everyone else, let me explain. I had been dressing according to the fashion blogs, my friends and whatever was in style at the moment.
That just messed up my style, if I even had one. Guess not, haha! I still look at the blogs and whatever is in style at the moment. But minimalism made me really look at myself and what works for me. Which is in my case are really simple outfits, I love me some of those! It also helped me stop chasing trends and buying clothes each month. Finding my style has helped me create my signature look, which is still developing. But you do really see me coming. For instance, my friends already know exactly what type of clothes I will be buying, when we go shopping.
Save up and invest
This is the key to being able to buy more expensive and clothes. When you stop buying clothes you don't really need or like, you can save so much money! Think about it, five cheap t-shirts cost you about a hundred bucks per month. Don't shop for three months and you can buy a nice timeless designer bag. A bag that will last you a few years and will look good with all your outfits. Think about it, how many times have you bought clothes you're not really wearing? Yeah, that hurts, doesn't it!?
This really is one of my best minimalist fashion tips. I have been able to buy more expensive items of better quality this last year. I have outfits I actually like to wear, clothes that truly fit me and my personality. I don't have the biggest wardrobe, but I do have one I really like. I'm slowly building a wardrobe filled with luxurious fashion items. That dream wardrobe really is closer than you think. Especially when you only buy what you need and make sure those items are top notch.
Think about this
Many people think that a big wardrobe is the key to looking good, it's not! The most stylish people in the world have the tiniest closets. Once this notion hits your brain, you will be able to let go of that unnecessary chase. Yes, a wall of shoes might be cool. And a hundred dresses are nice, but are you really wearing everything? Nope, you will not because you will always have your favorites. So why not find out what those are and really invest in awesome items?
Less is more,
Kaya-Quintana
P.S. Have you ever tried one of these minimalist fashion tips before?