/
Nagels: Neon pink met Herôme nagellak van Snow white and the huntsman
Neon is overal te vinden in de winkels. Eerder had ik al een outfit met een neon top gelanceerd. Deze keer heb ik een mooie nail art gefotografeerd in neon stijl. En dat heb ik gedaan met een ander merk dan de merken OPI of Anny, die ik meestal gebruik. Want tijdens het Glossybox en Herôme event werd ik verwend met de nieuwste kleuren van Herôme. Dit zijn de nieuwe kleuren voor de film Snow white and the huntsman. De kleuren in deze collectie zijn geïnspireerd op de film over sneeuwwitje. Maar met een beetje fantasie kun je die mooie klassieke kleuren, omtoveren tot een trend look.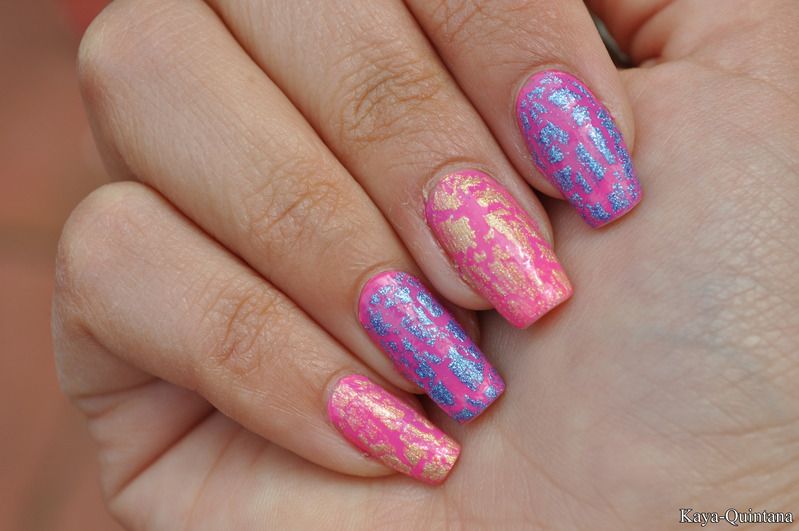 Met behulp van de mooie roze naggellak genaamd Awakening kiss, creëerde ik een mooie basis. Herôme nagellakken zijn heel soepel en iets minder dik dan die van OPI. Ik vind ze daarom iets prettiger in gebruik en de kleuren zijn over het algemeen mooi dekkend. Met twee laagjes van de roze kleur knalt het nog beter van je nagels af. Vervolgens kon ik niet kiezen uit de twee bijbehorende shatter nagellakken. Ik vertelde je al eerder over de blauwe shatter nagellak genaamd Mirror, mirror. Ik vind dit echt een hele mooi kleur voor een shatter polish. Maar er is ook een gouden shatter in de nieuwe collectie te vinden. Deze heet Evil queen en is even prachtig als de blauwe shatter.
En wat doe je als je niet kunt kiezen? Juist, ze gewoon allebei gebruiken, hihi! In combinatie met de mooi roze nagellak creëerde ik een neon look. En iedere keer als ik naar mijn nagels kijk, word ik hartstikke vrolijk. De kleurtjes zijn helder en snoeperig om te zien. En tot mijn verbazing is mijn Essence Gel-look top coat, die ik je liet zien in mijn haul video, heel erg goed. Ik heb er twee laagjes van aangebracht en de glans is prachtig. Daarnaast chipt mijn nagellak niet en blijven de kleuren intens. Ik denk dat de Essence top coat een favoriet van mij kan worden. Want tot nu toe, zien mijn nagels er tip top uit.
Heb jij al wat neon inspiratie opgedaan?
Kaya-Quintana