Remember I went to that crystal convention last Sunday? I showed you in my newest vlog and I got myself some nice goodies. I've always had a thing for crystals because they look beautiful. To be honest, their mythical powers and stories always intrigue me. I like how their energy or auras can have some effect on our wellbeing. Yes, I truly believe they can have a positive effect on us. If not and it's just in my mind, I still have some pretty crystal pendants to wear.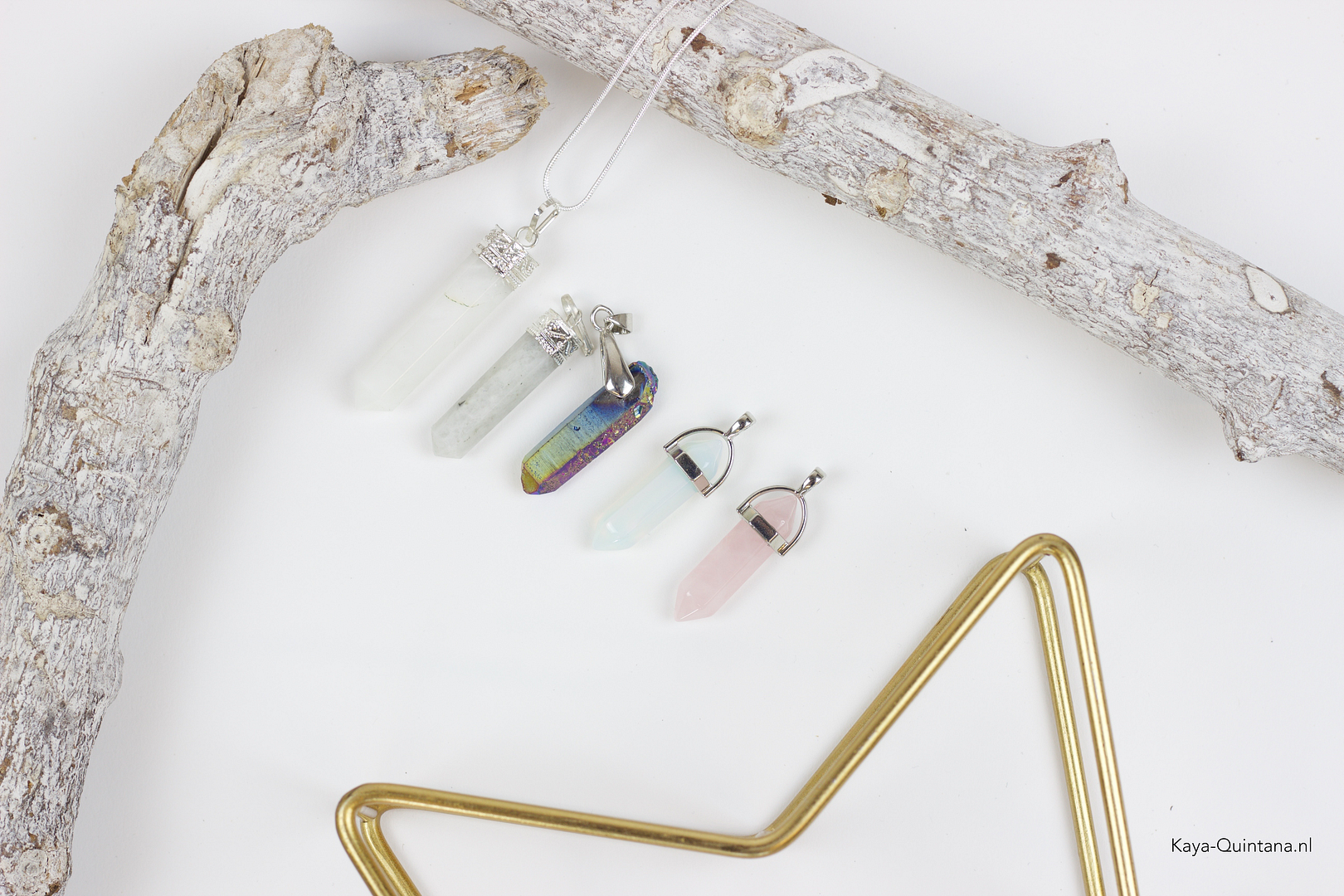 The crystal pendants I bought are all in the same style. I like how they are elongated instead of their original rounded shape. I got these because I want to layer them. I like mixing different sizes of necklaces and crystal pendants. Because all the crystal pendants are a product of nature, they are never the same exact size. That is what I like, it makes my layered necklaces look less matchy-matchy.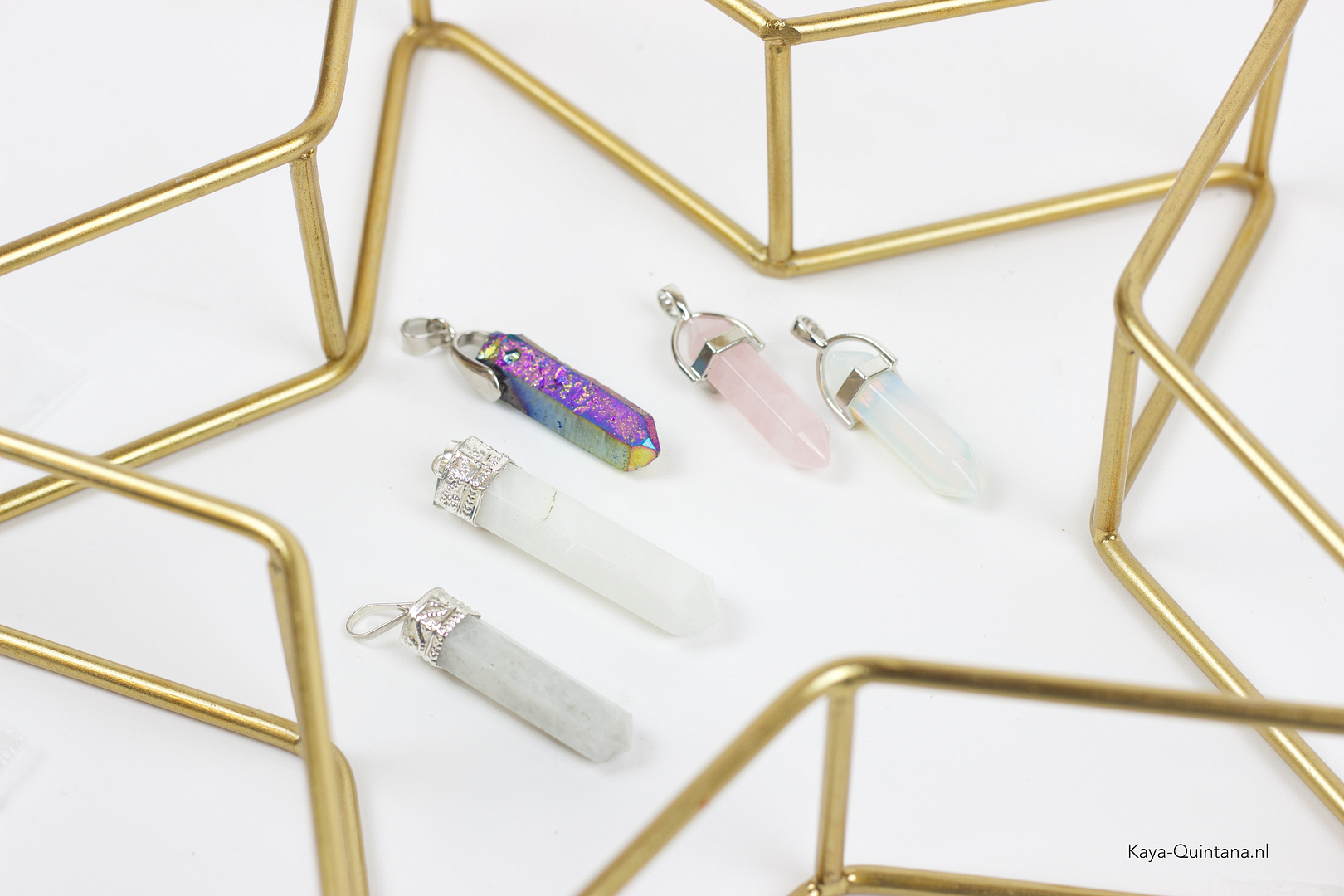 There were so many crystals to choose from at the crystal convention, I just started picking the once that really caught my eye. I have a thing for marble, so that was easy. I got myself a white and a grey marble pendant. These were €7 per piece and that's a pretty good price. I'm not aware of any benefits marble can have, I could only find some information about it's cleansing properties. Sounds good to me!
I think my favorite is the crystal pendant with the rainbow quartz, love it! This is a quartz stone treated with some kind of mix of titanium or gold, if I understood correctly. It turns the upper layer of the stone into this beautiful rainbow-colored mix. And everyone needs a bit of rainbow in their life, jackpot! They say rainbow quartz can spark energy and creativity, can't say no to that!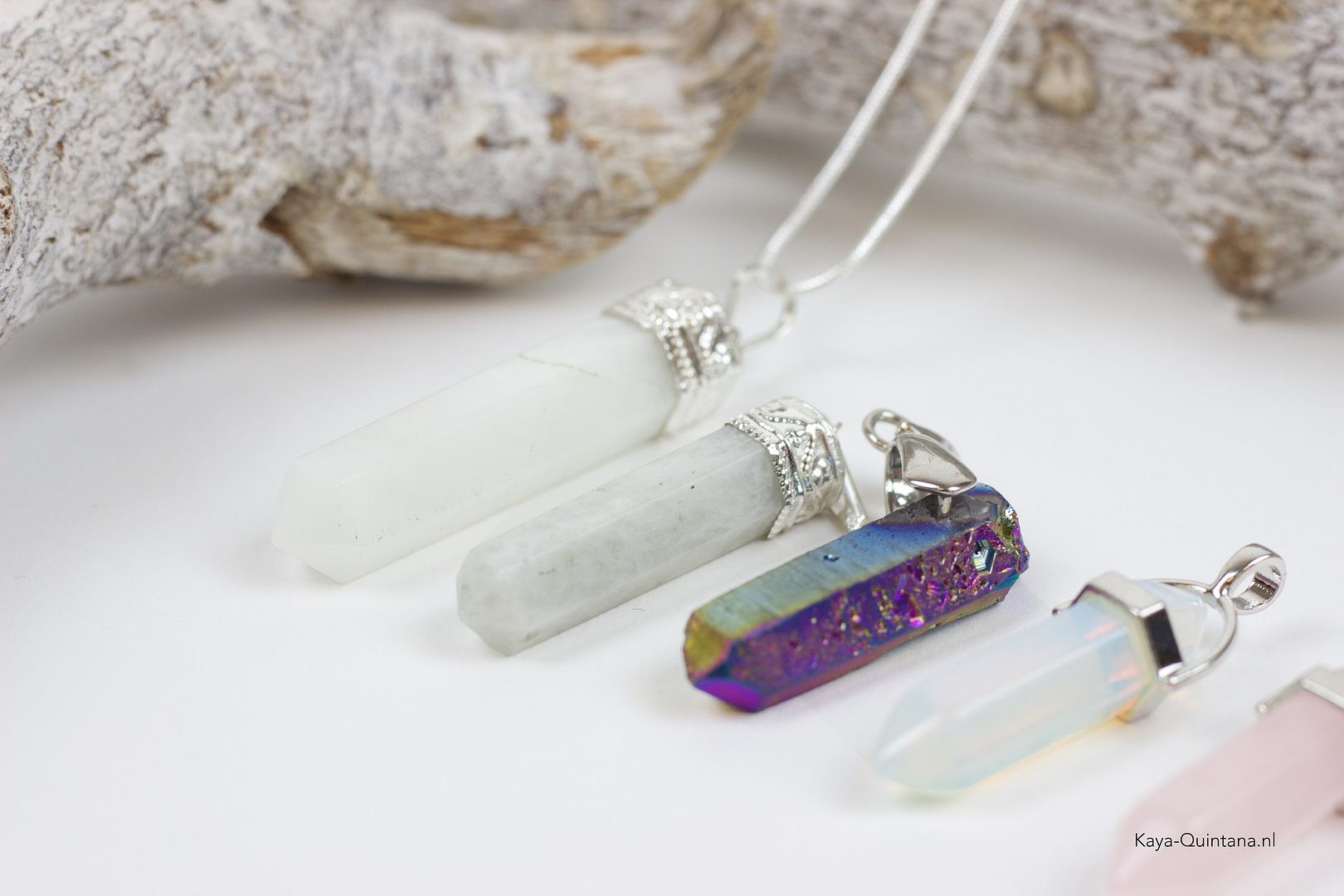 The pink crystal pendant is made from rose quartz, a beautiful soft color if you ask me. They say this crystal is all about love. It's supposed to open your heart to give and receive love. Well, I could use some help with that. I haven't been on a date in months, haha! The baby blue pendant is made of opalite crystal. I get really mesmerized by this beautiful shade of blue, mainly because it's my favorite color.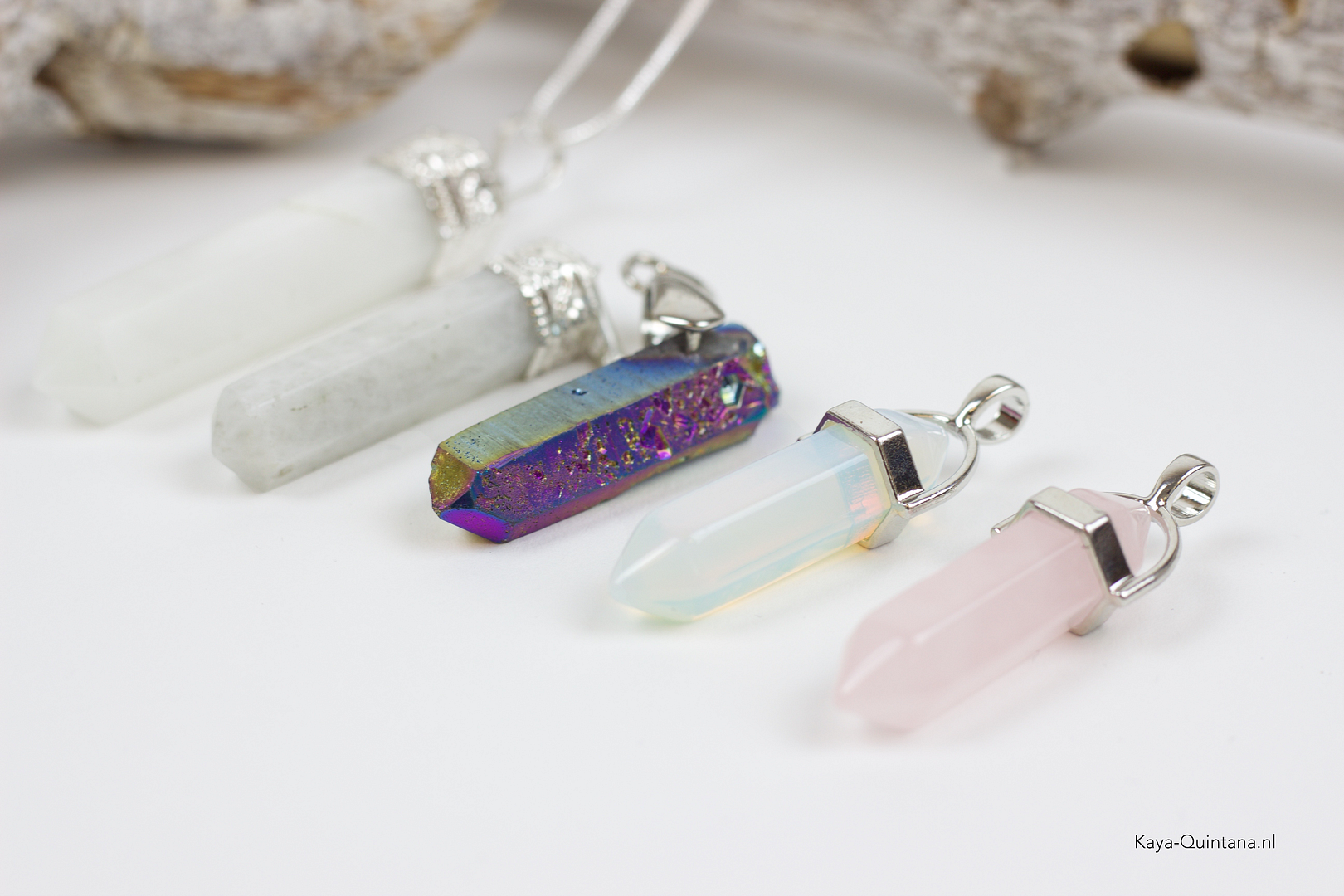 They say opalite crystals are helpful with meditation and communication. Sounds perfect to me since I work in PR, I'm always communicating. But all jokes aside, it should also help you with some all-round healing. Now I do believe these crystals can have a good effect on people. I am however realistic and always conscious of the fact that a crystal won't solve all my problems. I do not rely on items to get stuff done.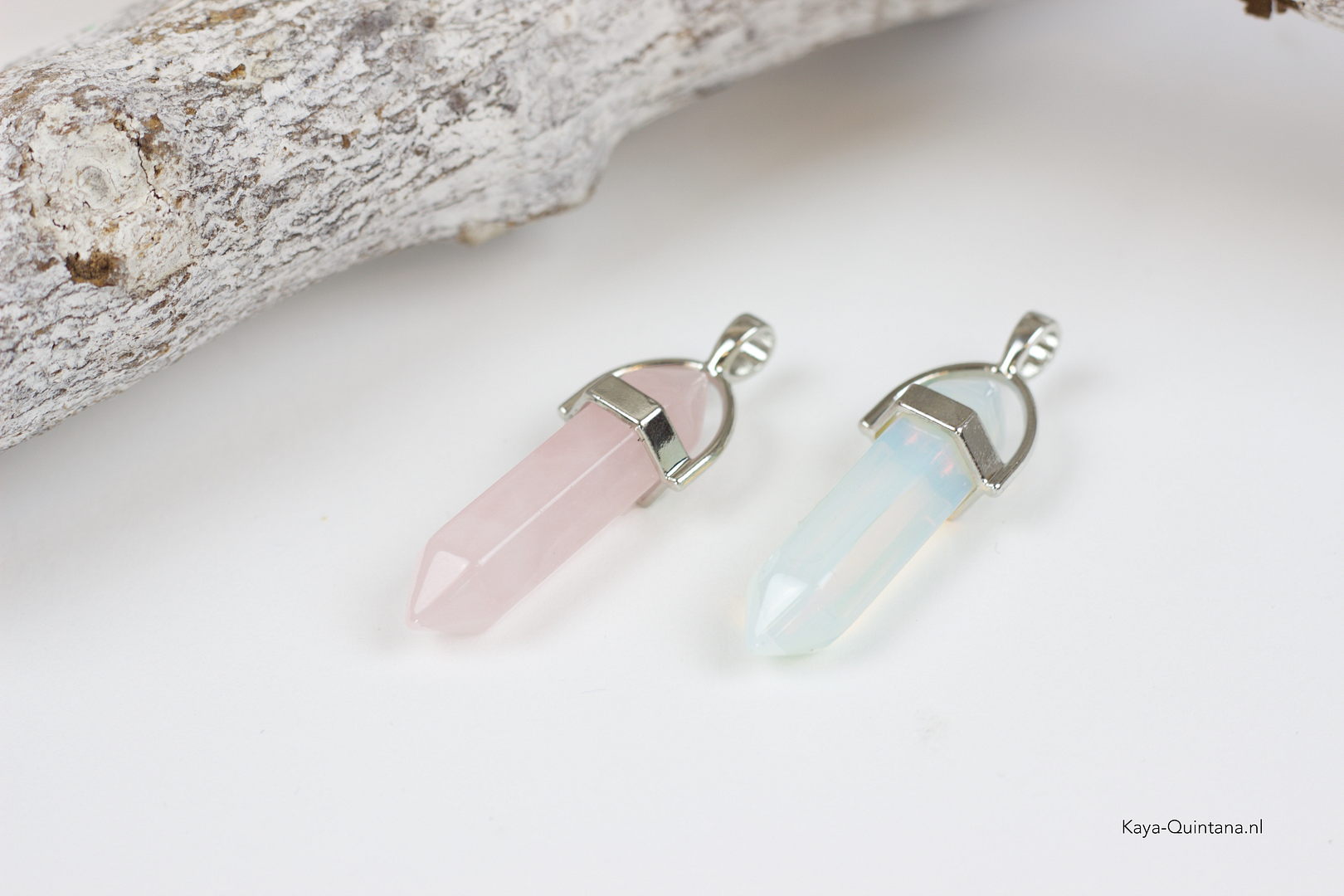 But I've had crystal pendants for years and I tend to get used to them. I notice I often hold them or touch them during the day. Mostly because I like to fidget and holding a crystal calms me down. Maybe these crystals do really work, haha! I just like to stay open minded and wear these crystals because I think they're beautiful. And if they help me out while look pretty, I won't complain.
Would you ever consider wearing crystals for their healing properties?
Kaya-Quintana
P.S. Follow me on Bloglovin for more fashion articles.