/
Sans Soucis skincare favorites
Meet my new friends: The Sans Soucis One apple a day serum and the Moisture aqua benefits anti-age day cream. Never heard of Sans Soucis skincare before? I have, but I never paid much attention. Mostly because I've never really seen anyone else write about them and I have a very needy skin. I simply am a little scared to try new products, due to some gnarly allergic reactions to skincare in the past. But these items were given to me by a PR agency and I am happy to use them now.
Let me give you some information about my skin before I get into the nitty gritty. I have chronic eczema, allergies and hay fever. This means a lot mainstream products are a no-go for me. I always have to use something soft and gentle, which moisturizes like crazy. Dry skin is the worst, especially when I have active eczema. So now that we are in the fall/wintertime, I have to adjust my skincare again. I started looking around in my beauty closet and stumbled upon these products by Sans Soucis skincare.
Now I have to say that my skin is in pretty good condition. I have a bit of eczema under my nose, but my skin isn't too dry. I decided to try the One apple a day serum by Sans Soucis to keep it that way. This serum is supposed to be anti-aging with plankton and apple stem cell extract. I have to be honest and say I'm not really impressed by ingredients like these. Most skincare brands only use the tiniest bit of fancy ingredients, but still boost about it for marketing reasons.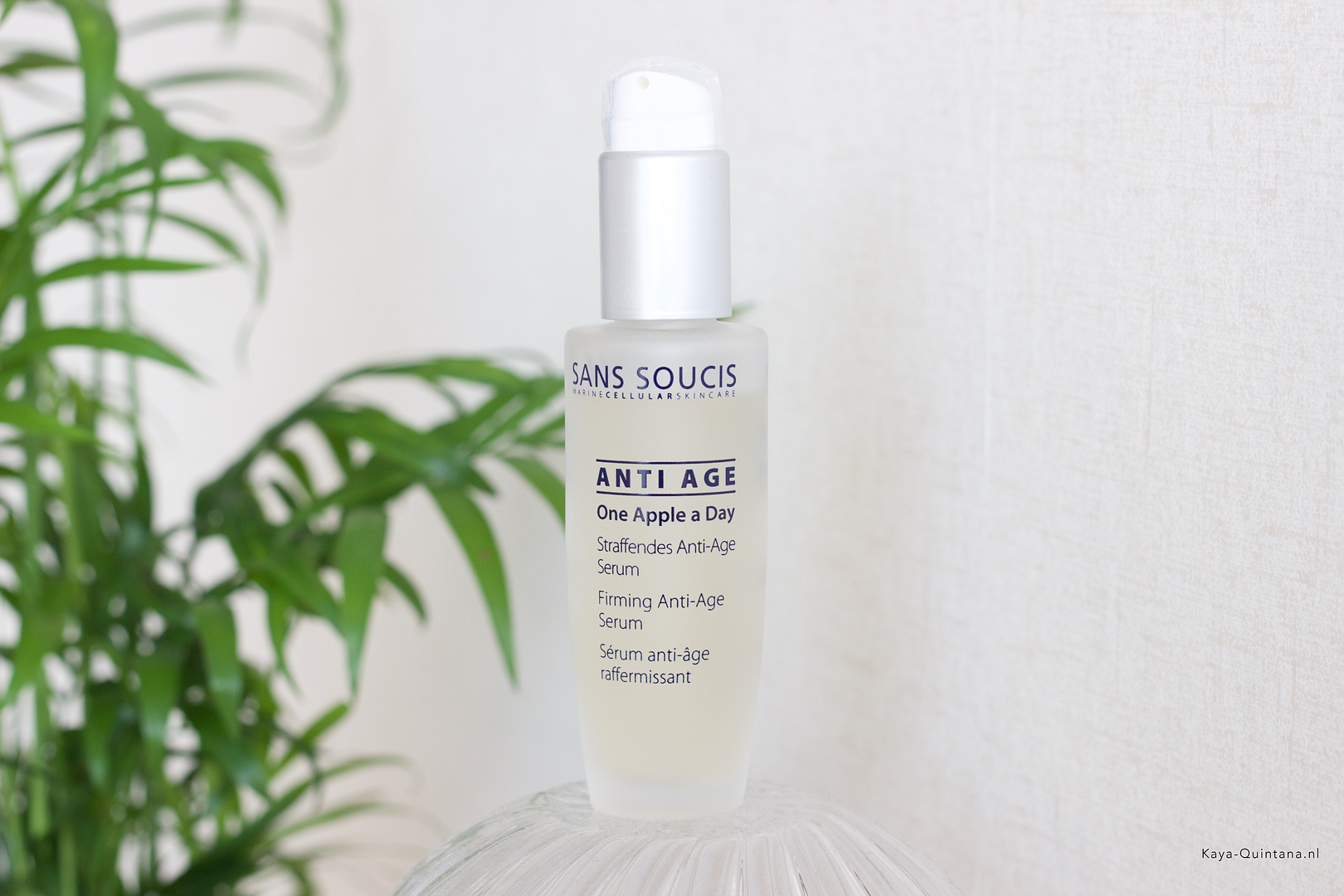 This serum does really seem to be different than my other serums. It's really easy to apply on the skin and it doesn't leave my skin feeling tight. I apply the Sans Soucis Moisture aqua benefits anti-age day cream after the serum. These products seem to complement each other very well. The serum helps to give my skin a boost and it seems to take care of the dullness. The day cream gives me all the moisture and glow I need, it's awesome!
Yes, this combination has been my favorite for a few weeks now. I haven't even touched my other skincare products since I started using this combo. My skin was looking very dull, dry and I had some pimples due to stress on my forehead and chin. Those are gone and my skin looks much healthier now, I love it! I also think it's because Sans Soucis uses thermal water from Baden-Baden. Thermal water is always a good idea for sensitive and allergic skin.
That is why I used to have a lot of products by Avène. They use thermal water from France and Sans Soucis uses thermal water from Baden-Baden in Germany. These types of waters seem to calm my skin down and make it feel so much more relaxed. The day cream is also very rich and creamy. You don't need much of it cover your entire face and neck. It also keeps my skin hydrated in combination with the serum the entire day, even when I wear a lot of make-up.
Which I can tell because of the fine dry lines that usually start to form during the day. Those lines mostly start around my eyes and around my nose and mouth. A big plus is that both of these products are free of parabens. Which is great since I'm allergic to those. If you are looking for a skincare brand that is soft and gentle for your skin, Sans Soucis could be the one. They are also pretty affordable if you ask me.
The Sans Soucis One apple a day serum costs around €40 at Douglas. The Moisture aqua benefits anti-age day cream will set you back about €25 at Douglas. I think this Sans Soucis skincare combination is well priced and the products really do what the brand promises, in my humble opinion. So if you are still looking for a hydrating set for your skin, this could be the one.
What are you using at the moment?
Kaya-Quintana
P.S. Don't worry, I have more skincare articles for you.