/
The Salt of the earth deodorant review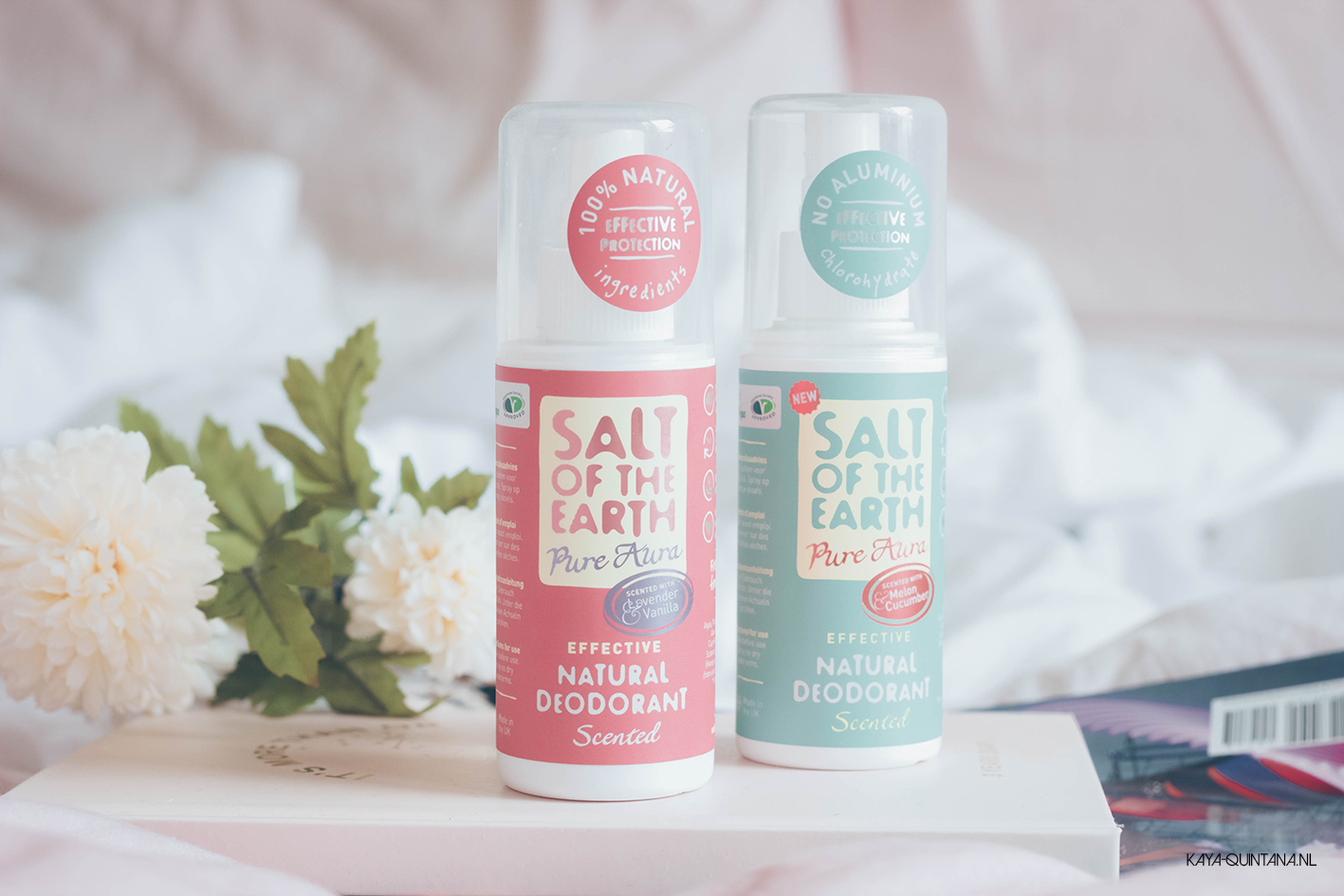 Let's talk smelly armpits. Just kidding, here's a new review about the Salt of the earth deodorant. This brand caught my attention because I saw it floating by on Instagram. Since I needed a new deodorant anyway, I thought I'd give this brand a try. Deodorants are quite tricky for me, since most of them give me a rash or trigger eczema. Not all natural deodorants are good for me either, because I'm allergic to a lot of plants. But the Salt of the earth deodorant has gotten some good reviews and now I can finally share mine.
Product: Spray deodorant, I tried the lavender and vanilla scent and melon and cucumber
Brand: Salt of the earth
Rating: 8
Promises: 'Unlike traditional antiperspirants, which block the skin's pores and impede the body's natural sweat production process, Salt of the Earth won't block your pores, instead it works by leaving a thin layer of natural mineral salts on your skin, which inhibit the growth of odor-causing bacteria. Comprising 100% natural ingredients, including natural botanical extracts and oils, mineral salts and organic Aloe Vera, Salt of the Earth is kind to skin, allowing your body to function naturally, while protecting you from body-odor. What's more, Salt of the Earth deodorants are kind on clothing and won't leave any embarrassing white marks!' according to the Salt of the earth website.
Price: Around €7 depending on the store and I got mine at €5 on sale at Etos or Albert Heijn.
Pros
It's a natural deodorant and it's free from aluminium chlorohydrate, alcohol, parabens and triclosan. It's not tested on animals and it's appropriate for vegans and vegetarians. Now I personally don't mind all of the ingredients listed above. Most of them can be found in other cosmetic items too, but I guess it's better to be safe. What's most important to me is that a deodorant doesn't irritate my skin. Since I'm allergic to parabens and a lot of synthetic fragrances, this deodorant is very helpful.
But does the Salt of the earth deodorant really work when it comes to bad smells? I have to say I don't sweat that much. I rarely have sweat pouring down my body or really wet armpits, not even during a workout. The skin under my arms gets a bit damp at the most, unless it's crazy hot outside during the summer. That doesn't mean I always smell like a bouquet of roses, haha! The Salt of the earth deodorant does really help me to smell normal, no smelly armpits. I've been testing it during this very hot summer and in the gym too. And I kept smelling normal.
[one_half padding="0 5px 0 0″]
[/one_half]
[one_half_last padding="0 0 0 5px"]
[/one_half_last]
I say that I smell normal because I don't smell anything else but my normal scentless skin. The natural fragrances in this deodorant tend to evaporate quite quickly in my experience. There's not a lot of fragrance left after an hour or two. There's actually no fragrance at all, but I don't mind smelling nothing. I'm good as long as I don't have stinky armpits. I'll use a normal perfume to add some fragrance to my clothes if I want to. There is something else I do really like about the Salt of the earth deodorant.
It really doesn't leave white marks on my clothes or residue on my skin. I can use it immediately after shaving without getting a rash or eczema. And it also seems to hydrate the skin under my arms pretty well. Other deodorants left my armpits quite dry and flaky, but I guess the Aloe Vera and oils in this deodorant do their work really well. The last good point is that it takes about three spritzes truly last me all day.
Cons
I couldn't find bad points, bud I did find some things to consider. This natural deodorant is quite expensive compared to regular ones. That's why I got mine during a promotion for €5 instead of €7. I wasn't sure if it was going to work for me, that's why I didn't want to spend too much at first. I've also noticed that this deodorant works best on me if I clean my armpits with soap before I use it. Make sure all the odor producing bacteria are rinsed of your skin, before applying the Salt of the earth deodorant. I've noticed that it works much better if I do so.
If I do not rinse my armpits in the morning first, I will end up smelling funky. It's actually a habit of mine to wash my armpits in the morning. But I've also had a few days where I was in a hurry and completely forgot do to so. I ended up using my deodorant thinking it would mask any upcoming smells. Boy, was I wrong! After a few hours in the hot sun I could actually smell myself and I didn't like it. Don't think this deodorant is an easy fix to mask your smelly armpits.
I love a good fragrance on my body, but the scents added to the deodorants evaporate quite quickly. The lavender and vanilla scented deodorant smells fantastic when I spray it on. The melon and cucumber fragrance loses its freshness fast. Do not expect a long-lasting fragrance under your arms with these deodorants. One spritz isn't enough either, I have to use about three spritzes to really make this deodorant work. Which leads me to think I'll run out of this deodorant faster than usual.
[one_half padding="0 5px 0 0″]
[/one_half]
[one_half_last padding="0 0 0 5px"]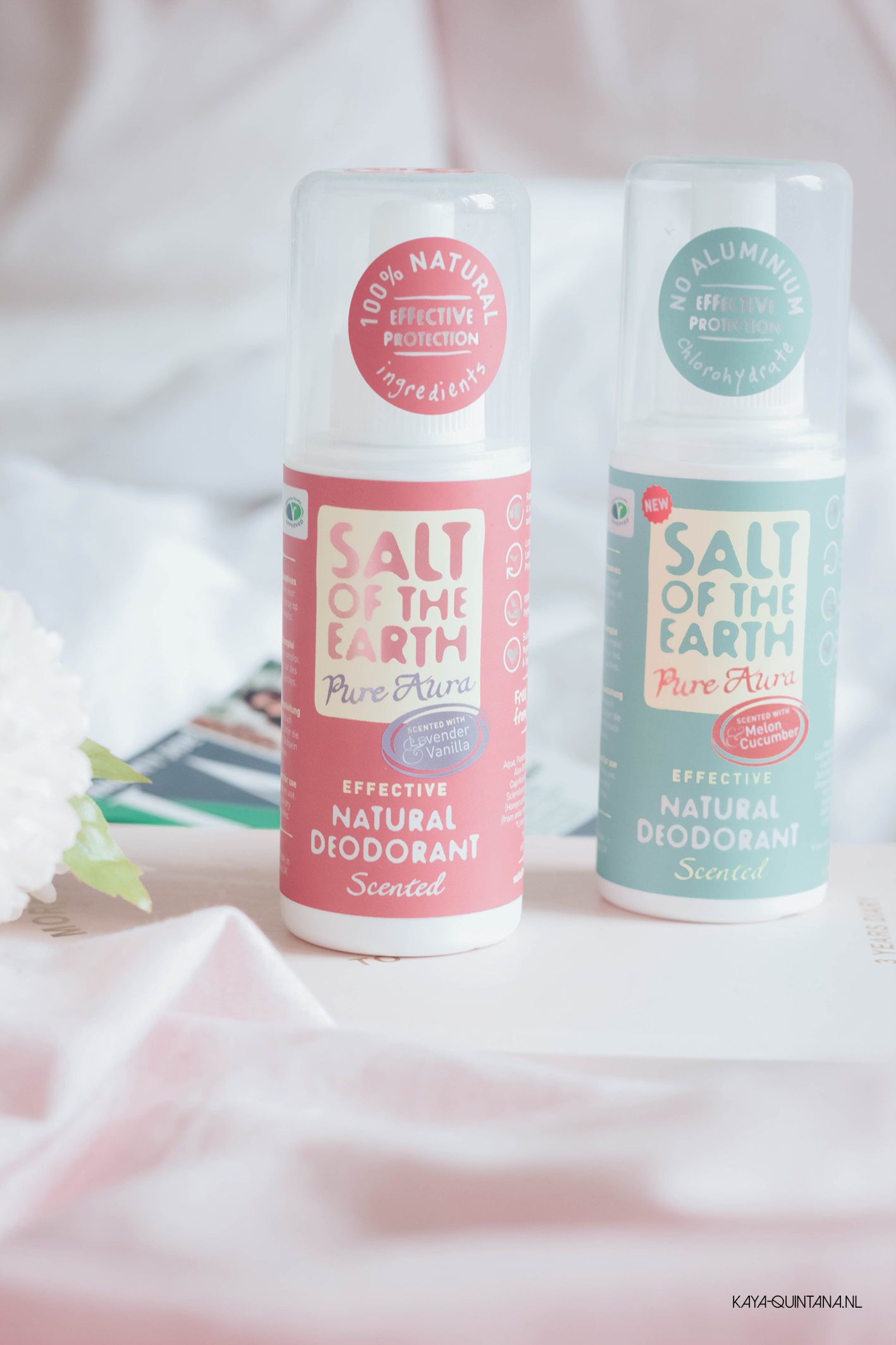 [/one_half_last]
The verdict
Yes, I would buy this deodorant again. Mostly because it doesn't irritate my skin and the idea of using less to no chemicals, makes me feel better. I don't think this deodorant is better than a regular one when it comes to preventing sweating. Because you'll always sweat, but it will help you get rid of a mild unwanted body odor. If you're someone who sweats a lot, I don't know if it would actually work for you too. I think this is the type of product you really need to try for yourself and see if it works.
Have you tried this natural deodorant too and what do you think?
Kaya-Quintana
P.S. Follow me on Bloglovin for more beauty reviews.