/
The Unwash bio-cleansing conditioner review
No one likes an itchy and dry scalp, or dandruff. Well, unfortunately I have all of these things happening on my head. I've tried everything and almost every shampoo and conditioner to fix it. Unfortunately I haven't found a solution that actually works, sigh… But I have found a few products that make my scalp and hair feel a bit better. Like the Unwash Bio-cleansing conditioner, which was gifted to me by a PR agency a long time ago. I finally started using it a few months ago and I was surprised by the results. So let's dive into the review and see what the Unwash Bio-cleansing conditioner can do for your hair.
Product: Bio-cleansing conditioner
Brand: Unwash
Rating: 7
Promise: 'This unique non-lather formula attracts and removes daily dirt and surface build-up without stripping hair of natural oils, leaving hair free of frizz, and full of bounce. Safe for color-treated and other hair processing treatments,' according to the Unwash website.
Price: $29 at Ulta.com or €24,95 for a set at Hairpro.nl.
[one_half padding="0 5px 0 0″]
[/one_half]
[one_half_last padding="0 0 0 5px"]
[/one_half_last]
Pros
This shampoo does not foam up, there are no bubbles! One might think that this is a bad thing, but it's actually a good thing. You see, the ingredients (like SLS or SLES) that make cosmetic products foam up are usually very drying to the skin. The foam is a 'trick' to make you feel like your hear gets cleaner because of the bubbles. Therefor it's good that the Unwash Bio-cleansing conditioner doesn't foam up and doesn't containt those drying ingredients. It's also free from parabens which I'm very happy with.
Let's talk about the structure of the Unwash Bio-cleansing conditioner. It's a very creamy product, but it's creamy in a good way. It feels rich and soft when you apply it to your scalp and hair. What I love about this shampoo is that it leaves my hair very soft, somewhat shiny and very moisturized. I can tell it doesn't dry out the ends of my hair as most normal shampoos do. It also feels much better on my scalp as it doesn't dry out my skin. The last good point is that it doesn't make my hair feel heavy after using it. I think this is what makes it the perfect shampoo for people with dried out hair.
Cons
I have a few things I don't like about this shampoo. First of all, I thought it was a conditioner as the packaging says. But on the Unwash website they tell you it's designed to replace shampoo and conditioner. So it's a two-in-one product? I find it a little confusing and that's why I've been using it as a conditioner more than a shampoo. What I personally dislike about using the Unwash Bio-cleansing conditioner on my scalp, is that my scalp gets greasy really fast after using it.
[one_half padding="0 5px 0 0″]
[/one_half]
[one_half_last padding="0 0 0 5px"]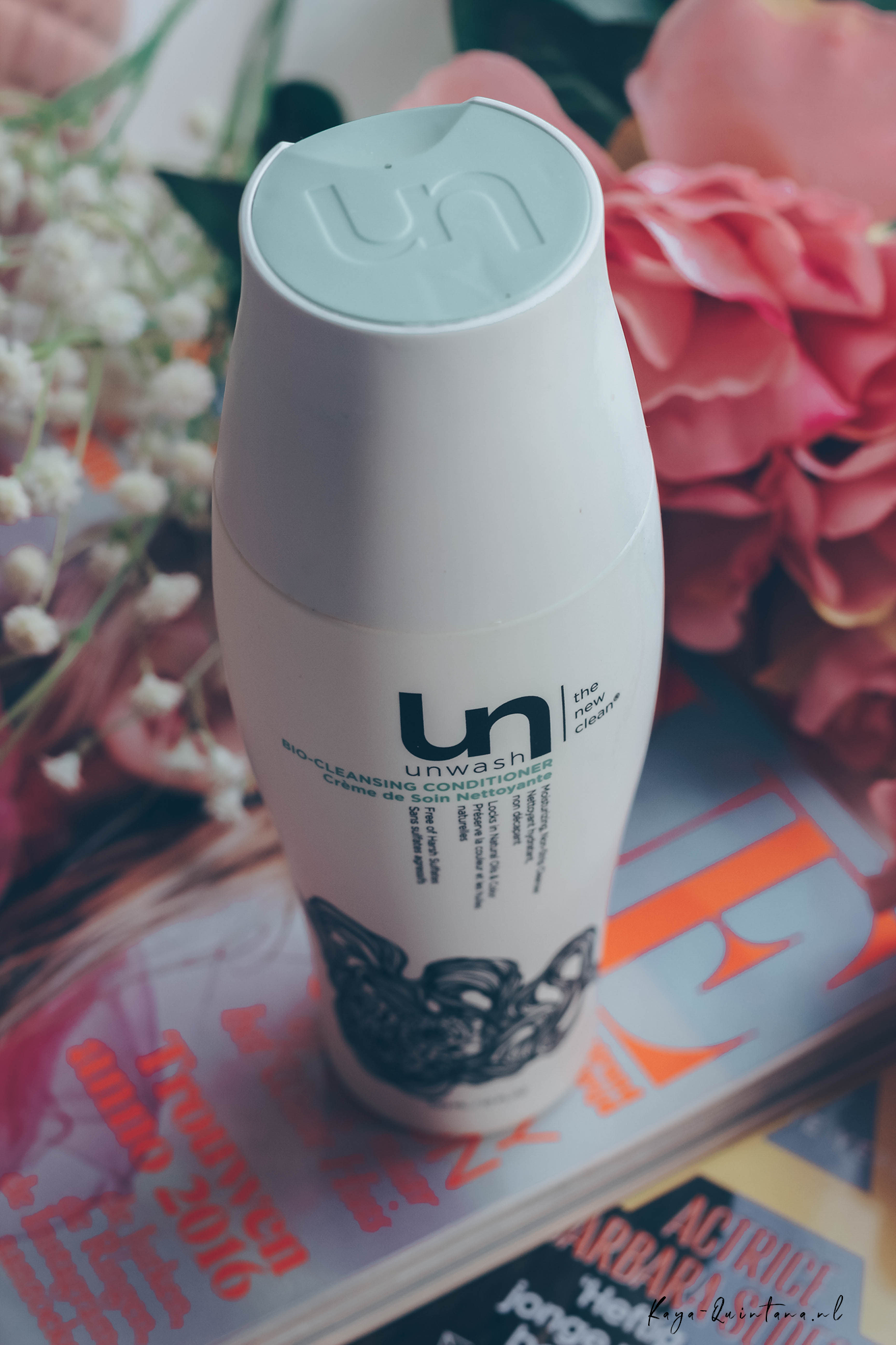 [/one_half_last]
I can usually go without washing my hair for a day or two. But if I use the Unwash Bio-cleansing conditioner I won't even make it through the day. Which makes me have to wash my hair even more, to make sure I don't look like a greasy bum. Now, this is probably different for everyone, but it's a definite con for me. I tried using this product as a shampoo for two weeks, but it doesn't seem to make a difference. My scalp ends up greasy every time, which isn't working for me. I want to wash my hair less, not more because it feels and looks unfresh.
Then there's this fraise on the bottle: 'The finished product is not tested on animals.' Does this mean the ingredients were? It's very unclear to me and therefore, I would not buy it again. I think it's very important to not use products tested on animals and this claim doesn't sound very upstanding to me. Now let's talk price, because it's pretty expensive if you ask me. The Unwash Bio-cleansing conditioner costs $29 which is about €26. That makes this product very expensive and not something I would buy for everyday use. Especially since you need a lot of the product to really clean your hair.
[one_half padding="0 5px 0 0″]
[/one_half]
[one_half_last padding="0 0 0 5px"]
[/one_half_last]
The verdict
I love how the Unwash Bio-cleansing conditioner has no foaming ingredients. It's much better for my scalp and hair, but there are a few things that I really don't like. The fact that it makes my head and hair creasy as fudge is a big no for me. I found a way around that by using it on the lengths of my hair only, which works really well! But then there's the price, which is way too high in my opinion. I am not going to pay €29 dollars for a conditioner with ingredients that might be tested on animals. This is the biggest reason why I wouldn't buy this product in the future.
So the big question is: Would you buy an Unwash product?
Kaya-Quintana
P.S. Follow me on Bloglovin for more beauty reviews.
Shop this brand