Yes, it's true. I'm over Instagram and I just want to tell you why. No, it's not because I mind everyone showing their best pictures. I know there's a lot of people who get FOMO or stressed out by seeing picture perfect lives. I get it, I did experience that myself for a while. But I quickly realized it's just an app and it's just a picture, which doesn't always say more than a thousand words. Nope, sometimes is just a picture from a good angle and probably some Photoshop and filters.
The reason why I'm over Instagram is because the fun is gone. Yep, the magic has left the building and I can't find it anywhere. Instagram used to be the app that showed you every picture of your friends and other people you follow. Now Instagram, Facebook and Youtube decide what you get to see. Uhm, how bout no!? I get it, these platforms want to make money and as an entrepreneur I would want the same. As an Instagram user I'm just really over it. You see, the 'magic' behind Instagram was that you could actually feel connected with someone else. This is what made me love the app so much.
[one_half padding="0 5px 0 0″]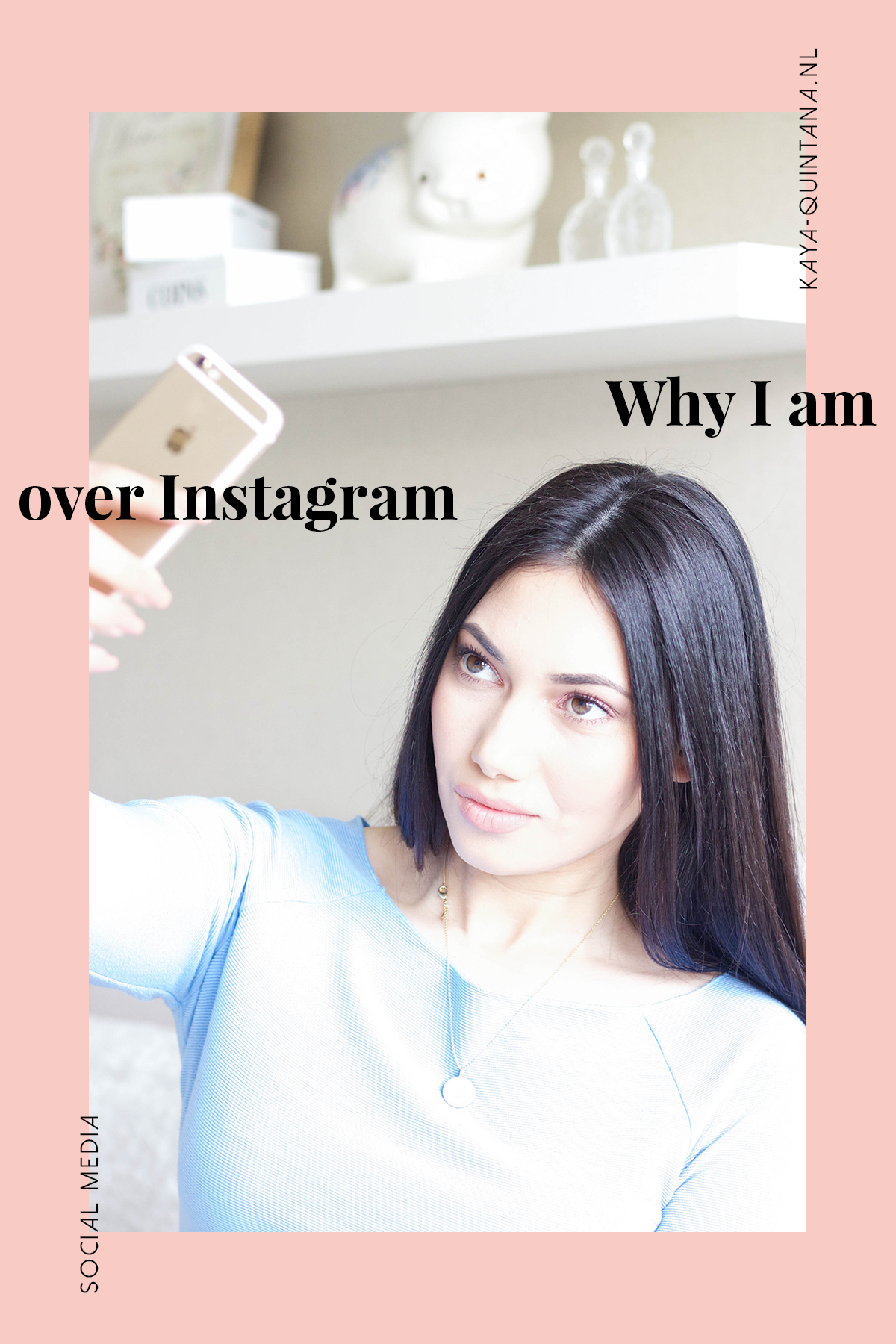 [/one_half]
[one_half_last padding="0 0 0 5px"]
[/one_half_last]
The same goes for Facebook and Youtube, but those platforms have turned loco too. Back in the day I made a lot of friends through Youtube, Facebook and Instagram. It was easy to connect with people and then meet up in real life. It would feel like meeting an old friend again, because you already knew a bit about the person through Instagram. I'm over Instagram because that real connection is gone. I also hate that Instagram makes decisions for me. Don't do that, don't decide on what I get to see and what not. I follow people for a reason.
I also hate that this new algorithm got many influencers into #beastmode. Now let me explain what I mean with that, haha! The new Instagram, Facebook and Youtube algorithms won't let you see everything from the people you follow. Which is bad for most influencers, who then try to get you to see their content in any way possible. It basically turns them into 'animals' and they get pushy and annoying. In this case and in my opinion, influencers are ruining Instagram and other platforms even more.
That's why I stopped following a lot of people. Mostly because I don't see their content in my timeline anyway and because they've become way too pushy. I follow people because they interest me, do something cool or inspire me. But don't annoy me with spammy posts, pushy comments and sales talk. I understand that influencers rely on their numbers to make money. Sadly, the market has created this way of thinking, where everyone is all about the numbers. If you don't have the numbers, you just don't count.
Ridiculous in my opinion, but the market has a stronger hold on people than I do, haha! Yes, as an influencer myself I have been worried too. I used to make a decent amount of money on Youtube and my blog. Until I switched from Dutch to English and lost a lot of readers and viewers. However, I have made it into a new market and my blog and Youtube channel are growing again. I also made a very good decision by not caring about other people's opinion anymore. Meaning I'm not blogging and vlogging to please other people. I do it because I love it.
I guess I'm not the only one, because recently everyone jumped on the Vero app. Many people are done with missing out on content and the people they follow by choice. Although Vero has yet to prove itself, I think it's a good thing to see that there are other social media platforms developing out there. I'm over Instagram because I can't see what I want to see and it makes influencers a little crazy. How about you? Have you been hating Instagram too lately or are you still digging the app?
I'd love to hear your thoughts,
Kaya-Quintana
P.S. Keep those selfies coming tho!