/
Clinique Pep Start hydrorush moisturizer
De Clinique Pep Start collectie bestaat al een tijdje. Sinds oktober 2016 is de nieuwe Clinique Pep Start hydrorush moisturizer met factor 20 beschikbaar. Ik ben sowieso fan van de hydraterende crèmes van Clinique en naar deze nieuwe moisturizer ben ik dus erg benieuwd. Volgens Clinique zou de Pep Start hydrorush moisturizer het hydrateren van je huid naar een hoger niveau tillen. Dat klinkt veelbelovend, maar wat houdt het in?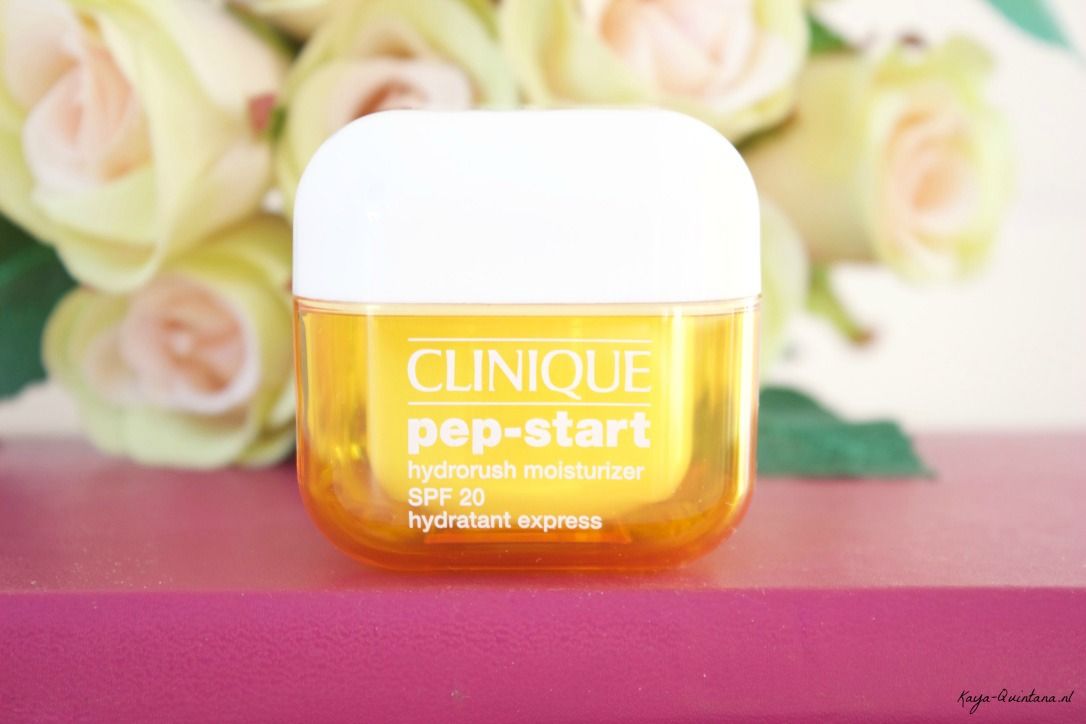 Volgens Clinique vind je in deze hydraterende crème een mix van ingrediënten die je huid beschermen tegen de UVA en UVB stralen in de zon. Deze ingrediënten zijn verwerkt in iets wat Clinique een 'floating matrix' noemt. Dat is als ik het goed begrijp een laagje wat ervoor zorgt dat je huid de zonnefilters niet opnemen. Hierdoor wordt een eventuele gevoeligheid voorkomen en kunnen deze ingrediënten je huid beter tegen de zon beschermen.
Tevens zitten er antioxidanten in de crème die ervoor zorgen dat je huid beschermd wordt tegen vrije radicalen ofwel vuil in de lucht. Daarnaast is de Clinique Pep Start hydrorush moisturizer ook gericht op het verzorgen en verzachten van je huid. De structuur van deze crème is dan ook heerlijk zacht. De crème is ietwat romig en doet mij een beetje denken aan Zwitsal. De Clinique Pep Start hydrorush moisturizer trekt snel in en laat mijn huid inderdaad lekker zacht en gehydrateerd achter.
Ik ga deze crème natuurlijk goed testen voordat ik een volledig review schrijf. Maar mijn eerste indruk is in ieder geval goed. Ik denk dat de Clinique Pep Start hydrorush moisturizer perfect is voor dames die houden van een rijkere crème. De meeste hydraterende crèmes zijn namelijk erg dun of in gel vorm, maar daar houdt niet iedereen van. De crème is in ieder geval redelijk geprijsd. Je betaalt voor 30 ml €22,- of €30,- waarvoor je dan 50 ml van deze hydraterende crème krijgt. Op dit moment is deze crème zelfs voor €19,95 bij Douglas te scoren, nice!
Heb jij de Clinique Pep Start hydrorush moisturizer al getest?
Kaya-Quintana
P.S. Volg mij via Bloglovin voor meer beauty updates, thanks doll!