Sinds een jaar heb ik een kleine crush op the desert boot. De originele desert boot kun je vinden bij het schoenenmerk genaamd Clarks. Clarks leerde ik kennen toen ik een tijdje geleden in een schoenenwinkel werkte. Op het eerste gezicht vond ik desert boots echt zo'n schoen voor kakkers. Logisch, want waar ik ben opgegroeid was iedereen een kakker en iedereen liep op dat soort schoenen.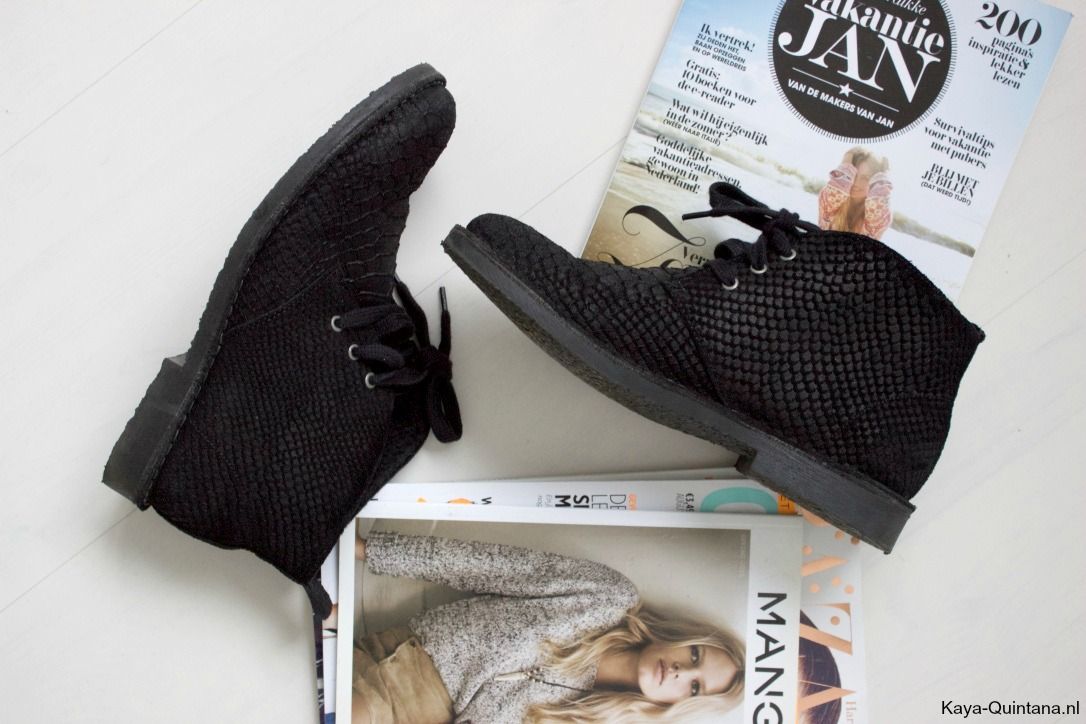 Echter waren mijn collega's helemaal gek op the desert boots van Clarks. Het kon ze niets schelen dat ze door de hel gingen tijdens het uitlopen. Ze trokken die schoenen hoe dan ook aan, haha! Persoonlijk gaat mij dat te ver, zeker omdat de originele desert boots van Clarks minimaal €130,- kosten. En voor €130,- wil ik niet weken pijn lijden voordat mijn schoenen lekker lopen. Daarom ben ik heel blij met de neppert die Invito verkoopt.
Vorig jaar kocht ik de poeder roze versie, die er nu echt niet meer uit ziet. Voor deze aankomende winter heb ik de zwarte versie van Invito desert boots gekocht. Ik heb deze keer voor zwart gekozen omdat het werkelijk overal bij past. Daarnaast heeft deze versie een mooie slangenprint in het leer zitten. De binnenkant van deze desert boots zijn voorzien van een zachte teddy voering, lekker warm!
Als je deze schoenen bekijkt dan zijn ze op het eerste gezicht niet eens heel speciaal. Waarom ik er dan zo gek op ben? Wel… Ze lopen gewoon echt heerlijk! Ik hoef ze niet uit te lopen en ze passen bij elk outfit. Deze schoenen zijn gewoon een no brainer, want ik kan er echt de hele dag op lopen en ik krijg geen pijn in mijn voeten. En stiekempjes ben ik zelf ook een kakkertje en kan ik desert boots wel waarderen.
Wat vind jij van desert boots, hit of shit?
Kaya-Quintana
P.S. Volg mij gezellig op Instagram via @KayaQuintana, see you there!