/
Nagels: Paarse ink spot nail art
Hold up! Het is waar, er staat eindelijk weer eens een nail art artikel op mijn blog. Deze keer gebruikte ik daarvoor twee nieuwe kleuren uit de OPI Infinite shine collectie voor de herfst. In mijn laatste vlog kun je deze kleuren alvast spotten. Ze zullen volgende week hier op mijn blog verschijnen. En in dit artikel laat ik je alvast twee kleuren zien, waarmee ik een ink spots nail art design maakte.
Normaal gesproken maak ik voor mijn nail art designs vaak gebruik van strakke of vloeiende lijnen. Deze keer ging ik los met een design uit de losse pols. Jawel, ik schudde deze versie zo uit mijn mouw! Daarvoor startte ik met een laagje van de Infinite shine base coat, met daarover twee laagjes van de kleur Substantially tan. Deze mooie lichte taupe tint is de perfecte basis voor dit nail art design.
Vervolgens gebruikte ik een Essence nail art sponsje waarmee ik de uiteinden van mijn nagels paars stempelde. Met het puntje van het sponsje depte ik de paarse nagellak steeds verder richting mijn nagelriemen voor een vervagend effect. Het sponsje van Essence zorgt voor een mooi vlekkerig effect, love it! De paarse nagellak die ik gebruikte heet Endless purple pursuit. And you know me, I love me some glitter!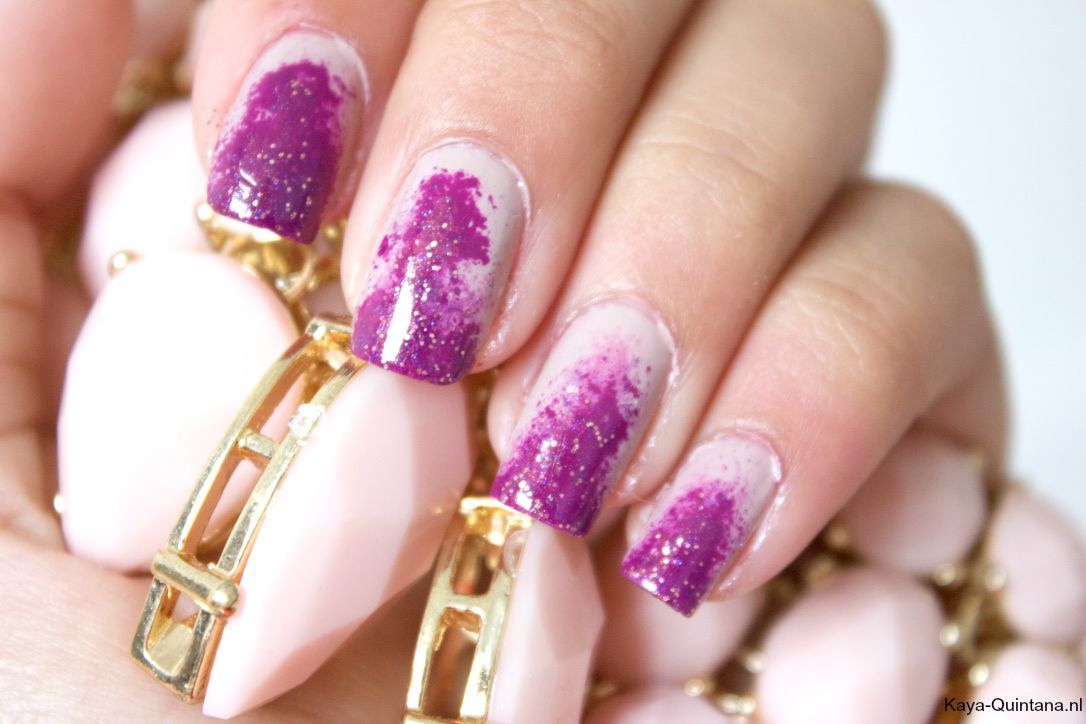 Daarom gebruikte ik ook nog een heel dun laagje van de kleur Lively in lilac van Sinful Colors. Deze depte ik wederom met het Essence sponsje over de paarse nagellak heen. Door het deppen krijg je een subtiel glitter effect. Als laatste liet ik alle laagjes nog even extra goed drogen en gebruikte ik de Infinite shine gloss top coat voor de glans. En het resultaat kun je op de foto's zien, vind je het een leuk design?
Maak jij dit design na? Maak dan een foto en tag mij op Instagram, dan kan ik het resultaat zien!
Kaya-Quintana
P.S. Volg mij op Instagram via @KayaQuintana, see you there!