/
My preppy paper bag skirt outfit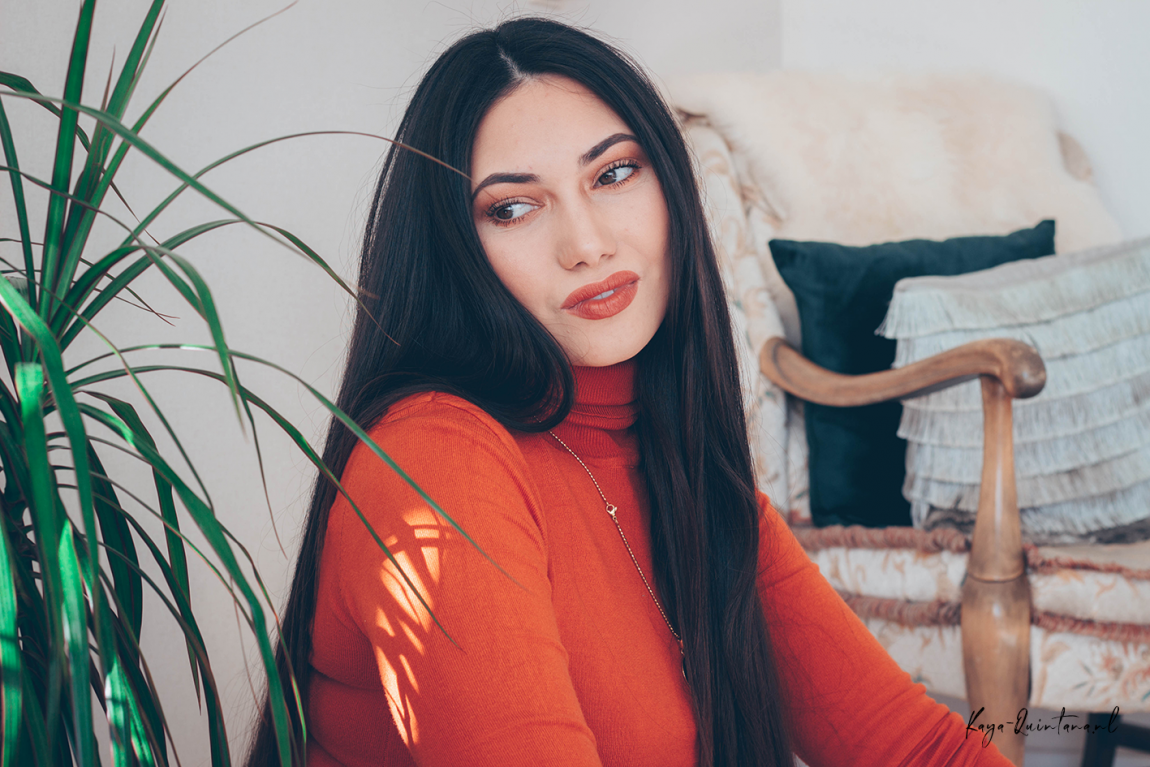 I find it hard to find skirts that fit me well. Mainly because I have a bigger butt and hips, and a 'hollow' back. Skirts often end up being too short in the back. Especially when I sit down and sometimes, I can't even get them over hips when I try them on. But this awesome paper bag skirt fit me right away and it was on sale, fantastic! I decided to bring it home and create a preppy paper bag skirt outfit with it. The print of the skirt is perfect for that type of look. The checkered pattern contains blue, brown and orange shades. That leaves me with a lot of styling options.
In this case I decided to wear an orange turtleneck, that matches the orange shade in the skirt. This turtleneck is one of my favorites, because the color is so rich and vibrant. It makes it easy to create an interesting outfit by using colorful pieces. Usually I'd pair an outfit like this with high heels, but I bought really cool moccasins last summer. They have that same rusty orange tone as the rest of the outfit, just a tat darker. I personally don't mind not having shoes in the exact same shade. It gives the outfit a subtle ton-sur-ton-look.
The moccasins are also very preppy due to the tassels. I call them my granny shoes, haha! And I love me some granny shoes, can't get enough of them. They also match the paper bag skirt outfit really well, as the skirt is not too stiff. The ruffled top matches perfectly with the tassels of my shoes. It brings a bit of movement to the outfit, something I've been learning to appreciate. All and all, this is an outfit I will definitely wear again. It does look more like a winter outfit, so I have to figure out how I can wear this for spring.
Yeah, I almost forgot its spring. Although the sky looks beautiful today, it's still really cold outside here in the Netherlands. As I'm writing this article, it's only 5 degrees Celsius outside. So yes, I can definitely still rock a turtleneck and a pair of tights. I'm really curious to hear your thoughts about this preppy paper bag skirt outfit. I know it's not super trendy, but I tend to wear outfits that look good on me. And also help me tell my story and share my message. I think that went really well with this outfit, because it definitely tells you I mean business and I like some prep in my step!
Would you wear this outfit too?
Kaya-Quintana
P.S. Subscribe to my newsletter for more outfit inspiration.
Shop my favorites