/
OPI infinite shine gloss top coat
Het is dé top coat voor vrouwen die het druk hebben. Een tijd geleden kreeg ik de OPI Infinite shine gloss top coat* en sindsdien gebruik ik alleen nog maar deze top coat. Ik gebruik de top coat over elke nagellak die ik heb en deze werkt altijd fantastisch. De top coat kost wel iets meer dan ik gewend ben, want met een prijs van €18,95 is dit de duurste in mijn collectie.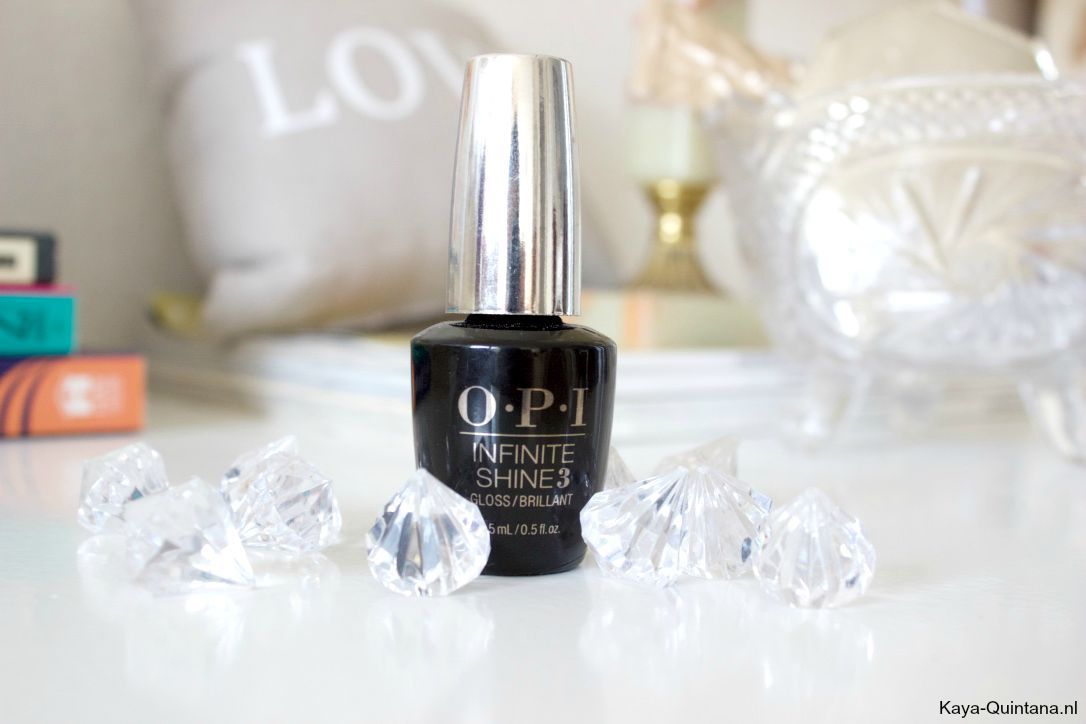 De Infinite shine gloss top coat hoort bij de Infinite shine collectie. In deze collectie vind je nagellak die je in drie stappen aanbrengt, voor een mooie finish met gel look. Deze top coat is de derde stap, waarmee je de basis en de gekleurde nagellak als het ware sealed. De reden waarom ik deze top coat zo geweldig vind, is ten eerste de structuur. OPI heeft altijd fantastische top coats die niet te dik of te dun zijn.
Ik heb maar een dun laagje van deze top coat nodig voor een prachtige glans. Tevens hoef ik door deze top coat niet meer de Mava dry spray te gebruiken, want de top coat droogt super snel. En met snel bedoel ik binnen tien minuten ready to go! Ook de laagjes nagellak onder de top coat zijn snel stootvast. Daarom vind ik deze top coat zo fijn want het scheelt mij zoveel tijd, zeker nu ik het zo druk heb.
Zoals je op de foto's kunt zien, komt de glans ook meteen tevoorschijn. De top coat kost dan wel wat meer dan de gemiddelde top coat, maar is het naar mijn mening zeker waard. Zeker omdat je deze top coat niet alleen met de Infinite shine nagellak hoeft te gebruiken. Uiteindelijk haal je het geld er ook wel uit, want een laagje van dee top coat is genoeg om je nagellak snel te laten drogen.
Heb jij deze top coat al eens getest en wat vind jij ervan?
Kaya-Quintana
P.S. Volg mij ook gezellig op Instagram via @KayaQuintana, see you there!