/
Low carb and Keto friendly, the Fulfil vitamin and protein bar
I was standing at the register to pay for my groceries when I spotted a Fulfil bar. After quickly reading the package I decided to buy one. Mostly because I was hungry and the amount of carbs in this bar is pretty low. It seemed like a good idea for my Keto style of eating. I bought a Fulfil vitamin and protein bar in Chocolate caramel and cookie dough. I was hooked after a few bites and I'd love to tell you why.
First of all, the Fulfil vitamin and protein bar is the best protein bar I've ever tasted. To be fair, I've only tasted the chocolate and white caramel and cookie dough bars. I don't know about the other flavors yet, but as a chocolate lover I can say this Fulfil vitamin and protein bar tastes really good. No, it's not like a real chocolate bar, but it comes pretty close. Unlike the other bars, like the ones by Atkins I tasted. Those are basically like a bar of soap, gross!
These protein bars actually have a cookie texture and some crispiness to them. Which makes it feel like you're eating a normal cookie with a good bite. The best thing is that they don't taste like artificial sweetener. I really, really hate that taste and it usually makes me feel a bit nauseous. Texture and taste wise the Fulfil vitamin and protein bar is already winning. They are filling and they don't leave my stomach feeling like I ate a stone, awesome!
Now let's talk carbs since those are important for Keto and low carb diets. A Fulfil vitamin and protein bar weighs 55 grams and the entire bar contains 188 calories. A Fulfil bar contains 10,5 grams of carbs and is filled with 20 grams of protein. Compare this to an Atkins Advantage bar which weighs 60 grams, contains about 218 calories and 3,1 grams of carbs. It's interesting to see that a Fulfil bar has les calories, but more carbs compared to an Atkins advantage bar. You can check the Fulfil website for the ingredient list of every bar they have.
To be honest I'd rather eat a Fulfil bar because the taste and the effects on my body are much better. I've been eating half a bar after workouts, which leaves me at about 5,2 grams of carbs per half serving. I feel filled and much better than if I were to eat an Atkins bar. I'm not saying Atkins bars are bad, they're just not working for me. If you have the same problem these Fulfil bars might be the solution.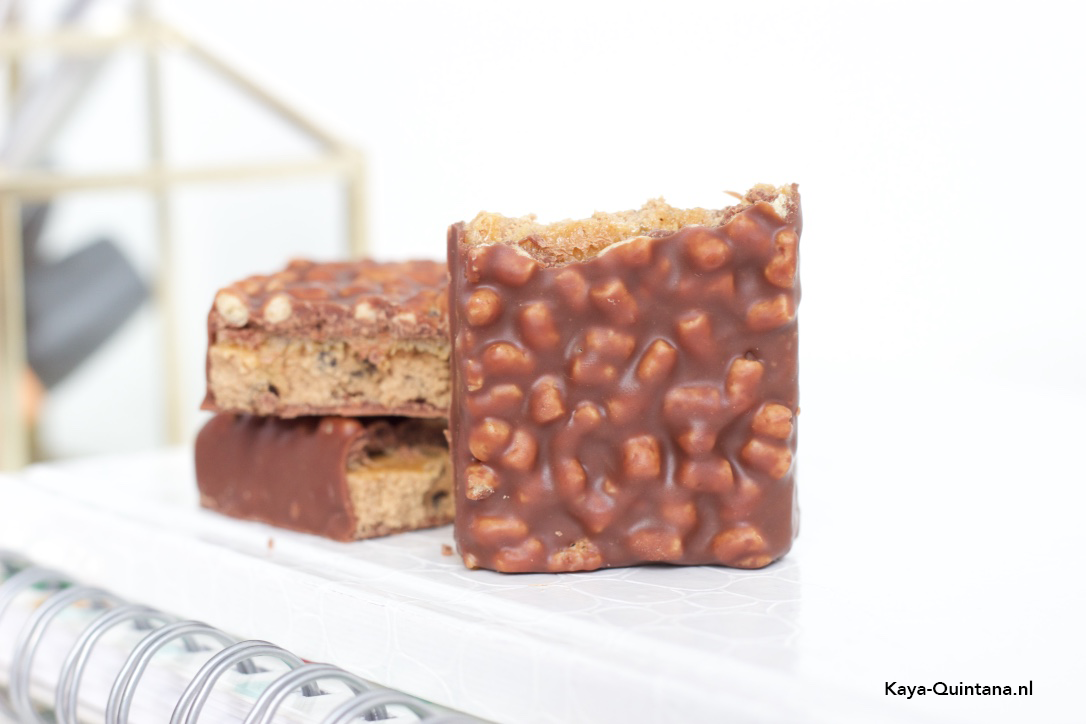 I have been bringing a Fulfil vitamin and protein bar to work and the gym. I eat half a bar if I need a quick pick me up so I can stay in ketosis. I sometimes eat the whole bar when it fits into my diet that day. I guess you can say I'm a fan and I can't wait to try other flavors. I bought a single bar at Albert Heijn for about €2,80. I bought a box with 15 bars for €26,15 at the Bodyandfit.nl webshop, which comes down to about €1,75 per bar. That's a pretty good deal to me!
I really wanted to share this amazing food hack with you, because I know it can be hard to find a Keto or low carb snack. These bars have been the perfect solution for me to stay in Ketosis while traveling. The only 'downside' is that they are not vegan and vegetarian proof. I am neither of those, so I'm good with that. They are very low in sugar, as you can tell by the amount of carbs. So yes, I'm a fan! I hope this article helped you find a low carb and Keto friendly snack to help you through those hungry times.
Let me know what you think of these Fulfil bars,
Kaya-Quintana
P.S. Check out my low carb and Keto friendly recipes.