/
What I learned from having a capsule wardrobe
As I'm currently creating my third capsule wardrobe, I thought I'd share what I learned from having a capsule wardrobe. There's a lot of advice and 'rules' for capsule wardrobes out there, but do they really work? Well, I've been trying out a lot of them and I've come to the conclusion they don't always do. That's why I'm sharing what I've learned, so you can explore have some real user experience, which hopefully benefits your own capsule journey. Ready to rumble? Let's go!
[one_half padding="0 5px 0 0″]
[/one_half]
[one_half_last padding="0 0 0 5px"]
[/one_half_last]
It's not that hard
I honestly thought that having a capsule wardrobe would be hard. Especially when it comes to creating outfits on a daily basis. I thought I'd never have enough clothes to really show my creativity and my own style. I guess I'm quite boring, because I realized I often wear the same type of outfit. I used to work from home a lot and I only got fashionable during the weekend. I really didn't need all the clothes I had in my full wardrobe.
Now that I am working from the office and on the road a lot, I do get creative with my capsule wardrobe. I now know how to manage the clothes I've picked for the season and I've been creating some really cool outfits. I never thought that I would look better with less clothes to choose from, haha! I can now honestly say that working with a capsule wardrobe is not that hard. And I'm just getting into it, so I can only get better at it and I can't wait!
[one_half padding="0 5px 0 0″]
[/one_half]
[one_half_last padding="0 0 0 5px"]
[/one_half_last]
It's not all neutral
I've noticed that people are often very surprised by the colors in my capsule wardrobe. I think it's because most capsule wardrobes only contain neutral colors. That's what really annoyed me about capsule wardrobes when I first got into it. All the examples on blogs, Pinterest and Youtube looked the same! All the clothes were black, white, brown, beige or some kind of variation of those tints. This isn't wrong and I get that's it's easier to work with neutral colors.
I personally find it way too boring to wear neutral colors only. I also don't have the skin tone for it, and I would feel very plain in such a color palette. Therefor I quickly ditched the idea that a good capsule wardrobe can only exist out of neutral colors. I personally do have some neutral colors in my wardrobe, but I tend to mix them with color a lot! This helps me show my style and the mood I'm in. I learned that having a capsule wardrobe does not mean you can't have your own signature style.
[one_half padding="0 5px 0 0″]
[/one_half]
[one_half_last padding="0 0 0 5px"]
[/one_half_last]
Planning is key
Since you have less clothes when you use this system, planning truly is key. I've often run out of clothes in the beginning because I though I had more. This resulted in me having to wash things quickly before an important day or event. Not very handy of course, but that's how I learned planning is important when you have a capsule wardrobe. I now have some kind of system down. When I see that my basic items are dirty and I'll have nothing left to wear within two days, I start washing immediately.
I've also learned to plan my outfits per day and look ahead. This means I tend to keep my fancy clothes for fun and important days of the week. My more casual clothes are usually for Mondays, Tuesdays and Wednesday. In other words: The boring days of the week when I work at home or on the road. The other days are often filled with office days, events or meetings with friends. That's when I use the fancy clothes, so I can still look somewhat stylish and cool, haha!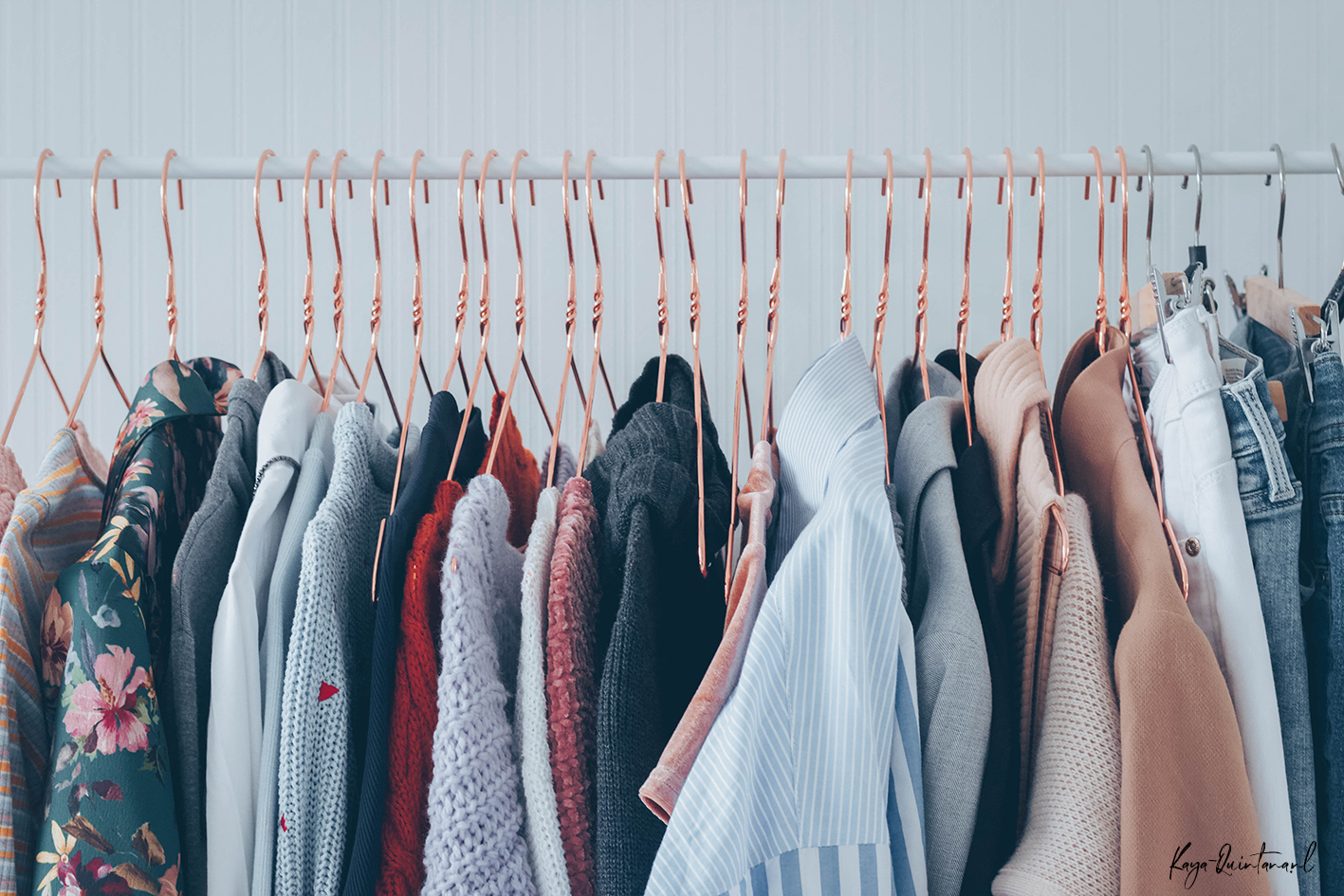 What I've learned from having a capsule wardrobe
The most important thing I've learned is not to get sucked into the hype. There are a lot of people who want to have a capsule wardrobe for the wrong reasons. It looks cool or they think its super high fashion or a style on itself. This results in people buying new clothes they don't really need, just to fit into the capsule wardrobe and minimal esthetic. This just takes away from the whole point of having a capsule wardrobe. Don't be fooled by these capsule wardrobe rules!
I can't lie, this was a trap I almost fell into myself. I saw Youtube videos and blog posts on all the things you need in a capsule wardrobe. Things like a white blouse, a certain type of jeans or a jacket from a special brand. It's all 'bullshit' and you don't really need it if it doesn't match your own lifestyle. A capsule wardrobe should fit your own unique needs, lifestyle and fashion style. There's no need to buy a white blouse, just because it's 'supposed' to be in a capsule wardrobe. Nope, you only have to buy a white blouse if it actually suits your needs.
Working with wish lists
I'm just getting into having a capsule wardrobe and I love it! As I'm currently creating my third one for spring 2019, I made a new wish list. Having a wardrobe like this has made me very critical of my full wardrobe. What do I actually wear, what am I missing and what trends will suit me this year? I've learned that it's important to have a list, so you won't just buy everything you like. I've noticed that being very focused on my wish lists has helped me buy more items of better quality that I actually like.
For example, I haven't bought a new bag because I simply don't need one. I do need new workout shoes, a fancy coat, new summer shoes and basic t-shirts and tops. Underwear and lingerie aren't really part of my capsule wardrobe, but these things are high on my list. Just like finding good summer dresses and skirts, as I really don't have any that fit me anymore. So yes, wish lists are very important and I keep updating mine every season.
What did you learn from having a capsule wardrobe?
Kaya-Quintana
P.S. Follow me on Bloglovin for more capsule wardrobe tips and tricks.